File Details

File Size
0.2 MB
License
Freeware
Operating System
Windows 7/8/10/2000/Vista/XP
Date Added
July 31, 2023
Total Downloads
37,915
Publisher
Martin Pesch
Homepage
1by1
Publisher's Description
1by1 for Windows appears like a file manager while it has all features of a versatile audio player - and much more. Play the tracks in your carfully arranged folders one by one with no need to fuddle with playlists or databases. Enjoy smoothly mixed transitions and the built in powerful audio enhancing. Handle your track collection with smart file tools. Reorganize tracks in different ways. And with Resume play never lose your last play position.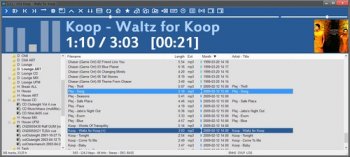 View Full-size
Latest Reviews
egg83 reviewed v1.93 on Aug 28, 2018
Simple and to the point audio player. Good audio quality in a small package.
uberfly reviewed v1.83 on Feb 5, 2015
I find this the best to browse and play your archived music collection without extra crap getting in your way. Simple and non-complicated. Stable. Also you can change the buttons - get them as addon from author's site.
barrytbutler reviewed v1.81 on Jan 29, 2014
excellent all in one player.
dubstepmaker reviewed v1.78 on Feb 14, 2013
really handy if you have an entire drive of music you want to play without thinking about it too much.
brotherS reviewed v1.75 on Nov 17, 2011
Very stable, great for audio books and stuff. Highly recommended.
gurgle reviewed v1.74 on May 20, 2011
Simple, fast and with extremely small footprint, does all I need to listen to large collection of music. Much better for huge collections (terabytes) where players that maintain some sort of constantly updated database like Foobar, Winamp etc just hangs or respond very slowly. 1by1 is simple and elegant solution. Thanks to the developer!!
Input Overload reviewed v1.74 on Apr 9, 2011
Does what it says on the tin. All I want in a player. Very good.
breebree reviewed v1.74 on Apr 8, 2011
Has become my fav mp3 player. The 5.1 mix works good and sounds great.. overall simple player that lets me go thru my files easily and quickly.
SineWave reviewed v1.73 on Apr 4, 2011
Small, unobtrusive, efficient, with all the needed functions for a music player. So easy to use that many of my customers even brought it up and said "1by1 is so easy to use, so quick...". I personally use Foobar because of its advanced functions like ASIO output and replaygain, but if there wasn't Foobar2000 I'd definitely use 1by1. :) The only drawback I find with it is the support for Winamp plugins for other formats like FLAC, WavPack, ogg and ape that are not so easy to find or it just takes some time to find them. ;) I would like to be able to download them all directly from the site.

Fabulous work! MP3 DirectCut, too! Cheers!
bogbasic reviewed v1.72 on Apr 4, 2011
What a great little program. Just came across it while trying to find something less baffling, annoying and confusing than a well-known media player and, most importantly, without those chronic visualisations!! Lots of nice little features that are easy to pick up.