File Details

File Size
0.9 MB
License
Freeware
Operating System
Windows 7/2000/Server 2003/Server 2008/Vista/XP
Date Added
May 10, 2013
Total Downloads
68,233
Publisher
My Little Soft
Homepage
A Bootable USB
Publisher's Description
A Bootable USB will create bootable USB drives from Windows ISO or a folder that contains Windows installation files.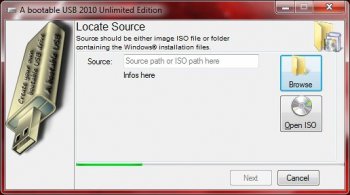 View Full-size
Latest Reviews
99thin reviewed v0.9.6.508 Beta on Sep 2, 2013
Very useful information. Thank you for sharing it. Thanks 99th
vern reviewed v0.9.5.471 on Oct 11, 2012
This failed to produce a bootable usb when run on a 32-bit xp machine with the source being a microsoft iso file for 64-bit windows7. It went through the motions and produced a key, but when I tried to load it on a target 64-bit machine, it failed with NT LOADER MISSING. I also tried to use it running on a 64-bit windows7 machine, but it hangs immediately when you try to browse for an iso file or folder. I was using version 9.6.508
It's nice but I personally like more http://bootableusb.org
AzureSky reviewed v0.9.5.471 on Aug 31, 2010
TO those saying this isnt safe
http://www.softpedia.com...ry/A-Bootable-USB.shtml

softpedia never has posted a file as safe that hasnt been in my experiance(15+years) so yes this is safe.

and yes 4 engine can be wrong, I uploaded my own packed file(made by myself) and got 7 engines saying it was a virus, it WAS NOT, it was a simple tool to edit files for a videogame(so you could use any items on any ship during the sp game)

honestly, dont blindly trust even sites like virustotal, and also do not trust the likes of avg, they have such a high false positive rate that anything named "keygen" for example is considered a virus.....even if its a file you renamed keygen :P
Pkshadow reviewed v0.9.5.471 on May 12, 2010
Maybe good, maybe not but trying to get users to use the program when they are alerted to the fact that the sub-domain fleeces a virus on you has to be pretty stupid to be using this program.

Threat Name: W32.Spyrat
Location: http://dl.dropbox.com/u/...server6666666666%5D.exe

Discovered: January 12, 2010
Updated: January 12, 2010 12:27:03 PM
Type: Worm
Infection Length: 290,304 bytes
Systems Affected: Windows 2000, Windows 95, Windows 98, Windows Me, Windows NT, Windows Server 2003, Windows Vista, Windows XP

W32.Spyrat is a worm that copies itself using removable drives and file-sharing networks. It also opens a back door on the computer.

Most virus updates files were updated today (May 11th) because of this new release.

I think Betanews needs to be a little more thoughtful about allowing postings from known hosting addresses.
nailzuk reviewed v0.9.4.344 on Apr 4, 2010
this will prob not make it past admins but this file is malware an autorun.inf virustotal cant be wrong maybe 1 engine will give a false positive not 4, be warned for a better tool to do the job get usb multiboot from here, virustotal gives it a clean bill http://www.boot-land.net/forums/?showtopic=4900
Vivek Kowshik reviewed v0.9.3.231 on Feb 2, 2010
Not tested enough. Does not recognize my ISO made from a WinXP-SP3 source, nor a directory containing all the WinXP SP3 installer files.
some guy reviewed v0.9.3.231 on Jan 31, 2010
whats the purpose? format the USB all contents of the cd/dvd drag drop :)
But you must make sure your BIOS supports boot off USB
donmor46 reviewed v0.9.3.231 on Jan 31, 2010
If this does not suit you, try Unetbootin.
s0121 reviewed v0.9.3.231 on Jan 30, 2010
The new version 9.3.231 Does not find my ISO(s) while the older version 9.0.4 finds and makes PERFECT Bootable USB.
Therefore I can not use it....