File Details

File Size
6.4 MB
License
Freeware
Operating System
Windows 7/8/Server 2003/Server 2008/Vista/XP
Date Added
June 5, 2015
Total Downloads
7,160
Publisher
MechCAD Software
Homepage
AceMoney
Other Versions
Publisher's Description
AceMoney is a product developed for everyday tasks of personal finance management. It allows to track your cash flow in multiple accounts, keep an eye on spending money by categories and payees, and satisfy a lot of questions like "how much did I pay for the food last month?" with one click of a button. It can generate many different types of reports. Compatible with QIF file format: most banks use to provide data online. Just download a file from the web site of your financial institution and import it to the account registry. It is designed for regular people that don't have special accounting skills or banking tecniques.
AceMoney Lite has all the features of its big brother except multiple accounts management. As AceMoney, this helps people organize and manage their personal finances quickly and easily. It supports all the features required for home or even small-business accounting needs.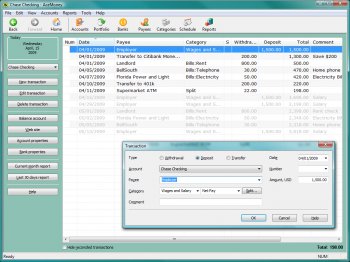 View Full-size
Latest Reviews
mikebratley reviewed v4.35.2 on Mar 11, 2014
awesome
chrispaul reviewed v4.35.2 on Feb 17, 2014
really good
krgood reviewed v4.35 on Aug 25, 2013
I bought the Pro version a while back . I liked the way it worked until i tried to set up some automatic deposits....not as versatile as it should be. A note to support about the inability to set a deposit as "4th wed of each month" got a response that simply said " we cant do that".... Quicken does, MS money did, and several other accounting pgms do that. So went back to Quicken. Other than being limited in custom auto transactions, it is a good pgm..
Antichrist reviewed v4.31 on Dec 19, 2012
After Microsoft Money was discontinued, I decided to get new software when I switched to a different bank and had a new account. This is the best one I tested, and it's still working out great for me. The interface could be nicer, but it works well and although the program is simple and limited to my checking and saving account, I realize I never used all the extra stuff in MS Money. This is just what I need.
reets reviewed v4.20.6 on Mar 27, 2012
Best software I've found for personal bank/budget management. Tried many of the other bigger ones but none were as easy to use.
mhf reviewed v3.9.3 on Nov 17, 2008
Undesired Username - you're boring.
The fact that the "Lite" version is rated more highly than the full-featured version goes to show how utterly stupid people are. Oh wait, I know, this one is free.
The power is there however the interface is AWFUL. It hurts your eyes to use and is difficult to navigate. There are better pieces of software out there for free, MUCH better!

Extremely Disappointing.
reets reviewed v3.8.3 on Sep 14, 2006
Best I've used so far for money management software. GUI could use a few more options but overall it's very usable.
eman8ions reviewed v3.8.3 on Jan 11, 2006
Yes, a very well made program with a very ugly GUI. The GUI alone has kept me away, but now I'm coming back needing to overlook that :)