Publisher's Description
Acronis Disk Director is the only disk partitioning software that allows you to automatically or manually resize, copy, and move partitions without losing data. It also lets you reorganize the hard disk drive structure and optimize disk space usage. If you use your computer for different purposes or wish to try a new operating system, it is safer and more convenient to use an operating environment that is completely separate from your business applications, entertainment, children's files and other data. It provides a powerful, reliable, and easy-to-use way to manage booting of multiple operating systems on a single PC. In the event of the accidental loss of a partition, it allows you to automatically recover any deleted or lost partition with any file system by booting from a special recovery CD or diskette, even if your operating system fails to boot.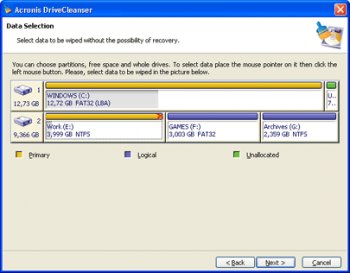 View Full-size
Latest Reviews
Terijan reviewed v11 on Jul 3, 2010
Nice tool to manage partitions, it supports Windows 7.
5 stars.
Uriel is a lier.

DD11 does support Windows 7.

Many functions from DD10 were removed (like wiping partitions). Pity.
Uriel reviewed v11 on Jul 2, 2010
Finally compatible With Windows 7. What took them so long? The 10 version killed my OS but thankfully I keep backups. They forced me to try Partition Wizard Free edition after which I bought a pro license for one third the price of what Acronis is charging. One would think that Acronis would be able to keep up with the times and not continue living in the XP days.
pjb reviewed v11 on Jul 2, 2010
Bloated. Not fully tested - one example it will crash/freeze if run with a USB drive inserted that has been encrypted with bitlocker.
There are far better and free alternatives out there. Save your money.
2 free/cheaper alternatives:
http://www.partitionwizard.com/comparison.html
http://www.partition-too...manager/comparison.html
lorg reviewed v10.0 Build 2160 on Oct 29, 2007
doesn't recognize Windows Dynamic Disks
help file can't be searched
3.5
jon8rfc reviewed v10.0 Build 2160 on Apr 8, 2007
--removed by jon8rfc--
pjb reviewed v10.0 Build 2160 on Mar 2, 2007
2007-03-01 Build #2160:
* Windows Vista support

Excellent Application.
AnybodyMustermann reviewed v10.0 Build 2160 on Mar 2, 2007
Finally a new build. The last one was ~10 months old. I hope this one improves compatibility with new hardware and brings Vista support.
The-Who reviewed v10.0 Build 2117 on May 15, 2006
Very good program. A nice replacement for the Norton Partition Magic. It seems that Acronis is becoming a name you know you can trust.
kise reviewed v10.0 Build 2089 on Feb 12, 2006
This is a really good program, but this demo is useless, I cant even make a logic to primary converse.