Publisher's Description
Adobe Media Player software provides control and flexibility to view what you want, when you want - whether online or offline. You can queue up and download your favorite Internet TV content, track and download new episodes automatically, and manage your personal video library for viewing at your convenience.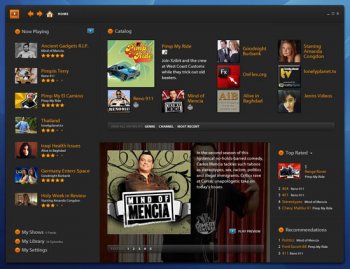 View Full-size
Latest Reviews
tangentlin reviewed v1.8 on May 18, 2010
Adobe Media Player has been my media player of choice for watching their product videos, tutorials and occassionaly my FLV's. Its name could be misleading as it is not designed to be a general media player but a player targeting creative professionals. It is also a small cross-platform media player for its UI. Any claims about bloated probably have not done any objective research or even known anything in terms of that level of programming. Adobe Media Player is able to work responsively on my 1.6Ghz laptop with jazzy UI animations, and flawless content playback, something that Windows Media Player or Quicktime could not even come close.
jcunews reviewed v1.7 on Apr 23, 2009
It's kinda late for Adobe to jump into the media player competition. Overall, it's a good player but a bit bloated.

For Mac users, it's a must. But for Windows users, better use your current favorite player with a FLV DirectShow filter.

I can see its future matured version already. It would be like Windows Media Player. Heavy and bloated, and probably even more.
davidtb reviewed v1.6 on Dec 5, 2008
Didn't care for it, too much content that just didn't appeal to me.
It's a fine player, just not my thing.
mjm01010101 reviewed v1.6 on Dec 5, 2008
On my third--and final-- use of trying this product out, I found the first video to be or horrendous quality, previewed with a 30 second commercial I put on mute.

The second video wouldn't play.

I'm done. 3 strikes, you are out, adobe.
cltx99 reviewed v1.5 on Nov 22, 2008
I'd like to try it, but it won't install. Maybe others have had the same problem. I finally got it installed after going to the support page and installing air runtime.

The video quality was very good, but the content was next to awful. The search funtion worked poorly. For example: Jon Stewart became Ryan Stewart and so on.

Lastly, I don't who wants to spend their time watching 5 minute clips of not so great stuff. But, I'm sure there are plenty of folks who do just that. Anyway, it's officially uninstalled.
waterguy reviewed v1.5 on Nov 21, 2008
Great program. If you have it you can set it to download and install updates in the background automatically so you dont have to get it here.
mjm01010101 reviewed v1.5 on Nov 21, 2008
Quality seems lower than I recall, and I had one interruption while watching a 5 minute clip. I'm on fiber, this shouldn't happen.

Not a good second impression.
alanpalmer reviewed v1.1 on Jul 24, 2008
It seemed OK, and worked quite well. I'll have to work my way through the networks/shows before I can properly judge, though. I'm not a fan of the alien UI, though.
Ryusennin reviewed v1.0 on Jul 22, 2008
Where's Star Trek!?
After downloading and viewing this software and it's programing, I find I like it. It is well made and presents itself well. Installing this software was very easy and it is quite easy to figure out. I like the style of it and the way it presents itself. The programing is good and it can only get better. Many will be able to watch things (especially if they are not on cable or satellite dish)that they will not see on conventional television. I rate this a 5