File Details

File Size
0.2 MB
License
Freeware
Operating System
Windows 2000/9x/Server 2003/XP
Date Added
December 9, 2006
Total Downloads
199,570
Publisher
Joseph Cox
Homepage
Adobe Reader SpeedUp
Publisher's Description
Adobe Reader SpeedUp significantly decreases the amount of time required for Adobe Reader to start by disabling most of the least used plugins. Plugins can be freely enabled and disabled, if required.
Currently supports free and full versions of Adobe Acrobat v3.0, v4.0, v4.0.5, v5.0, v5.0 CE, v5.1, v5.5, and Adobe Reader v6.0, v6.0.1, and v7.0.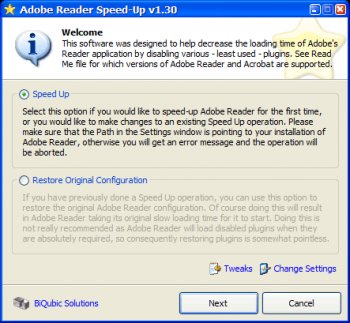 View Full-size
Latest Reviews
harrisandreson reviewed v1.36 on Apr 28, 2010
i have used adobe reader but i think this latest version is quite simple and
extra-ordinary in sense.cissp
barbls reviewed v1.36 on Feb 28, 2007
After installing this add-in for adobe Acrobat and checking off to use all of its plug-ins, I went in to Adobe Acrobat 8.0 and found an error message. I want to uninstall Adobe Speedup but cannot find the folder where it is installed as the readme suggests. I have emailed the author but so far no response. Anyone have any suggestion as to what i should due to uninstall this software?
ahjefri reviewed v1.36 on Dec 12, 2006
Very nice speed to adobe wait and read, Adobe should learn by now that perfomance is an issue when expanding software functionality until they realize this , I am using Foxit reader...

5 for this software , 5 for Foxit , 3 for Adobe reader..
demetrisk reviewed v1.36 on Dec 11, 2006
People, this is not the place to rate the Adobe readers! :-)

I installed Adobe Reader 8, and found it used a massive amount of RAM. After running ARSU, things are better (and faster).

Foxit is not a solution for me, for three reasons:

1. Not ideal font rendering w/ ClearType
2. Not fast rendering of images
3. Issues with search
indoguys reviewed v1.36 on Dec 10, 2006
Adobe Reader - Read: Adobe Waiter - most people use it indeed to read and Adobe made it almost impossible to do so. Use Foxit simply as that. There is no need for a speed up tool ;-)
InSuboRdiNaTioN reviewed v1.36 on Dec 10, 2006
rseiler- Version 6,7,8 are lightning quick because they sneakily load files with windows. Remove the entries from your startup and see just how quick they are then.

Excellent program, although it did not make as big of a difference for version 8 as it did for 7.
rseiler reviewed v1.36 on Dec 10, 2006
This hasn't been needed since v6 -- v7 and v8 are lightning quick.
edwerz reviewed v1.36 on Dec 10, 2006
Oh, this is great. Now the Adobe beast, besides consuming massive disk space for a program of its type, also gets to consume massive system resources so I always can be ready to open a simple PDF file. Foxit reader does the same without trying to own your machine. Might sound like a broken record, but there still might be some who don't know about Foxit , so unless you're the type thinks extremely bloated programs like the Adobe reader rock; do yourself a favor and don't install this to have Adobe sucking your RAM up.
zapatero reviewed v1.36 on Dec 10, 2006
Reader 8.0 is faster (and has a better interface) than previous versions, does not need this program.
lumaan reviewed v1.36 on Dec 10, 2006
Why do some pepeol's rating/review's for this program, rate/review Adobe Reader????? This program do what it say, speedup Adobe Reader.
And for this Foxit Reader, sure it sound good, yet you have to pay for addon's to be able to "Foxit Reader Pro Pack is not free. It unlocks functions to save annotation, save a PDF document as a text file, copy text from text viewer. Actually without Pro Pack, you are still able to annotate a PDF document and print it out. However when you save the annotated document, it will be stamped with an evaluation mark on the top-right corner of the annotated pages. If you purchase a Pro Pack add-on, then there will be no evaluation mark."
Well if you only open pdf to read and nothing more its fine. I'll stay with Adobe Reader and Adobe Reader SpeedUp