File Details

File Size
35.8 MB
License
Shareware, $29.95
Operating System
Windows (All)
Date Added
October 3, 2023
Total Downloads
8,701
Publisher
CSoftLab
Homepage
Advanced Diary
Publisher's Description
Advanced Diary is so much more than just a simple diary. The features and appearance of Advanced Diary make it a more than worthy rival to all the journaling programs out there! With rich text, password protection, voice recording, ability to insert photos, and much, much more. It may just be the best money you spent on software. Use Advanced Diary to keep private records, track weight loss, enter nutritional information, etc.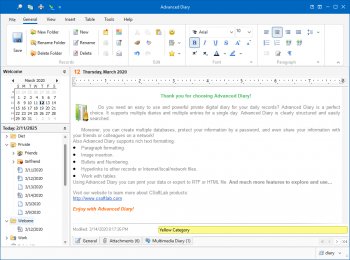 View Full-size
Latest Reviews
andy_m reviewed v3.6 Beta on Nov 7, 2012
Amazing program! I use it for two years every day and think that Advanced Diary is a best choice for daily journal.
Ball Sacks reviewed v3.5.1 on Mar 16, 2012
100% junk.
9i08 reviewed v2.0 Beta 2 on Aug 25, 2006
Been using it for about a month now. Very elegant, and simple to use and offers basic password protection as well as backup capability. The freeware version does the job for me
war593122 reviewed v2.0 Beta on Aug 22, 2006
Use to be freeware! :(
DJOmegaRush reviewed v1.3 on Apr 4, 2006
Great program. Looking forward to the new release...

@stopbuggingme
You can attach images and such (kinda) if you insert a cell on the doc. and paste whatever you want to embed into the cell.
allsiante reviewed v1.3 on Feb 8, 2006
I know, this is for Windows, but korganizer (also as part of kontact) has been supporting this for ages now. Maybe Sunbird will support it also.

Anyway, works, but nothing unusual, so I'll give it a 4.
Lisa Hayes reviewed v1.3 Beta on Feb 2, 2006
this is really neat!

While unintentional, it did occur to me at one point of having a program that performs such as this.

I kan keep track of just how an information changes chronologically using this.

it's beta so i'm expecting bugs, but none so far has been encountered.

as for minimizing to system tray, try trayconizer. It's just 4kb more or less.

http://www.whitsoftdev.com/trayconizer/

or until they add such a feature in the next release.

off topic: calling it a diary is weird, i'd prefer to call it as logbook instead.
stopbuggingme reviewed v1.3 Beta on Feb 2, 2006
Could have been better if it supports file attachments! i.e. Picture of close friend, important documents...
tp reviewed v1.3 Beta on Feb 1, 2006
i am not a heavy journaler but i like having the option and with an app that is portable. this one fits that bill. I have been using idailydiary but might switch because this interface is more functional with the tree view.

advanced diary could benefit from some of the ideas that have been incorporated into idailydiary like being able to password protect from minimize, minimize/close to tray, and the ability to change the interface colors (powder blue is not my thing).
richtam123 reviewed v1.2 Beta on Jul 3, 2005
Looks like it might be a good program but I get an error telling me that I'm missing "mtxclu.dll" which is already installed in my system.

If I can get it to work I'll look at upgrading my review of the program. I also tried their website but it was way to sloooow this morning.