File Details

File Size
17.6 MB
License
Shareware
Operating System
Windows 7/8/10/Vista/XP
Date Added
May 5, 2022
Total Downloads
362,158
Publisher
The RedFox Project
Homepage
AnyDVD HD
Publisher's Description
AnyDVD works in the background to automatically and transparently enable read access of the contents of a movie DVD as soon as it's inserted into the drive. The DVD will become useable to your windows operating system and all programs on your computer, such as DVD-Backup-software like CloneDVD, Pinnacle InstantCopy, Intervideo DVDCopy and others, then supporting any DVD. AnyDVD optionally disables the RPC region codes, thereby making the movie region free and comfortably viewable on any DVD player and with any DVD player software.
AnyDVD is capable of disabling unwanted movie features such as forced subtitles, forced delays, and no-skip marks, giving you full control over your movie experience. It also allows you to launch an external application whenever you insert or remove a disc, and prevents unwanted software like 'PC-friendly' from automatically launching when you insert a video DVD.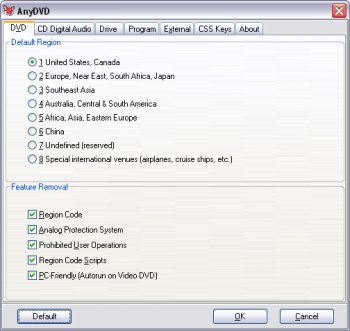 View Full-size
Latest Reviews
freeafrog reviewed v8.4.3.0 on Jan 4, 2020
Not trustworthy.
elopez17 reviewed v8.2.6.1 Beta on Jul 14, 2018
This program has his days, now is obsolete
Music4Ever reviewed v8.0.2.0 on Jun 2, 2016
ChipChop - I'm inclined to agree with you
ChipChop reviewed v8.0.2.0 on Jun 1, 2016
Company enscenated a planned "takedown" of their company, there hasn't been any lawsuit, it was a great way of decieving their paying customers.
CyberDoc999 reviewed v8.0.1.0 on May 20, 2016
if you buy this you are nuts
or you like to burn money
they are a train wreak
Zootopia3001 reviewed v8.0.1.0 on May 19, 2016
Surprised to see this here, hehehe. I'll give them A for effort for continuing to try and stay alive after the entertainment industry had them shut down. Currently no way to buy a license, so I wonder what's the point..... Unless you keep using AnyTrial v0.2 to keep resetting the 21 day trial(with AnyDVD closed, or in safe mode). Currently using DVDFab Portable. I've read up on their woes, and seems they were not quite in the same predicament that Slysoft was for a few years leading up to its demise... As of now.
3 stars for effort in staying alive
Music4Ever reviewed v8.0.1.0 on May 19, 2016
The same conditions that closed Slysoft could (will) close RedFox - I just do not trust these people enough to pay up.

Annoyingly I paid for a Slysoft HD licence a week or so before they closed down. No warning was given & IMO they cynically continued to take people's cash down to the the day the website disappeared when they probably knew the end was near well before then - bas****s!

The lifetime licence will probably be measured in a hamster's lifetime if that - Be warned.

I too have DVD Fab but how long it will last who knows?

Anyone have a bargepole?
freeafrog reviewed v8.0.1.0 on May 19, 2016
Unfortunately your lifetime downloads were their lifetime. You are going to have to buy a new license to get this version forward to decrypt any new codes from this point forward. Those of us that thought we had our lifetime for the relatively high fee are the ones screwed. Fortunately I have DVDFab which is still working, but will they do the same thing. Look for a lawsuit in the future.
uncabrian reviewed v7.6.8.0 on Feb 24, 2016
Slysoft products have always worked well on all my computers. I have all of them except Game Jackal. Luckily I purchased free lifetime upgrades with all of them and they were much cheaper back then. Unfortunately for over a week now I've been unable to get updates or even any download because their website has been shut down with no notices of why. All I can think is that they were shut down by government for some illegal business practices. So if you don't have a copy of their latest software and already paid for it you're basically screwed. Hold onto any install copies you have because they can't be replaced
Terry6v reviewed v7.6.4.0 on Aug 27, 2015
I've used this for years now. I guess it was cheaper back then as I got it bundle priced with cloneDVD. But I still get the updates for no charge and has always worked even through several PC's and multiple operating systems. Sadly I have less need for copying discs anymore as I usually stream online now..