File Details

File Size
271.5 MB
License
Freeware
Operating System
Mac OS X
Date Added
May 19, 2022
Total Downloads
21,541
Publisher
Apple, Inc.
Homepage
Apple iTunes
Other Versions
Publisher's Description
iTunes lets you create your own personal digital music library, allowing you to manage and play your music collection with drag-and-drop simplicity. iTunes, the software part of the equation that lets you pack 7,500 songs in your pocket, automatically synchronizes with the sensational new iPod at high speeds over FireWire. iTunes gives you the ability to generate dynamic Smart Playlists that reflect your preferences and listening habits. With iTunes it's easy to create CDs that play back on in your car, your home stereo, Macs and on Windows-based PCs. iTunes 4 adds the ability to share music among your Macs, play and encode AAC files, and view album art.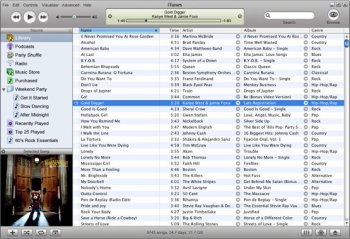 View Full-size
Latest Reviews
woodengod reviewed v10.7 on Sep 13, 2012
Why is that difficult to have always English version of the international iTunes music stores? Because apple is afraid that the native customers will use the English version to bypass the promotions in the native language? There've been numerous requests in both forums and the apple radar for couple of years and apple with every new iTunes version shows that it doesn't care!

Just because of that I give the iTunes the lowest possible rating and I will keep doing it until apple sales-brains make up their minds..
Adrian79 reviewed v9.0 on Sep 14, 2009
sweeet... 2009 update
Serophos reviewed v8.1 on Mar 26, 2009
Worst Audio-Player/Manger i've ever seen. Might even be the worst application i ever used if there wasnt mediacoder...
Nikkie reviewed v7.5 on Jan 8, 2008
I hate this program.It doesn't load some files and it started to run slow but i'm not sure why yet.

Are there ny alternatives? I am almost ready to grab windows media player for my mac.This is the worst audio player i've ever used.
thebig429 reviewed v7.1 on Apr 1, 2007
Needs support for AAC+ streams.
zee7 reviewed v7.0 on Sep 12, 2006
Slightly better than version 6.xx, but not quite up to snuff compared to its Windows-based competitors. Too much focus on pushing the iTunes Store, not enough on user configurability.
desibabausa reviewed v6.0.4 on Mar 29, 2006
iTunes 6.0.4 crashed on me. :(

I got my old version from http://www.oldapps.com and it works fine for me...

anyways... always liked iTunes better than any other jukebox.
DudeBoyz reviewed v5.0.1 on Sep 20, 2005
Sure wish I could get the GUI to look like 4.9 again. How do you uninstall 5.01 and put back 4.9 if you want, by the way?

Yeah, you don't get all the bug fixes, but you get iTunes looking the way it should.
Ichewgum00 reviewed v4.2.0.72 on Dec 19, 2003
Best Apple program ever. Works well on my iMac.
Tidus41 reviewed v4.2.0.72 on Dec 19, 2003
The only real good Media Player for the Macs.

it's great =)