File Details

File Size
4.8 MB
License
Open Source
Operating System
Windows 7/8/10/2000/Vista/XP
Date Added
August 22, 2017
Total Downloads
83,997
Publisher
Ares
Homepage
Ares
Publisher's Description
Ares is a peer to peer file sharing program that enables users to share any digital file including images, audio, video, software, documents, etc. You may now easily publish your files through the Ares Network. As a member of the network, you can also search and download just about any digital media file. You can also join or host chat rooms and meet new friends.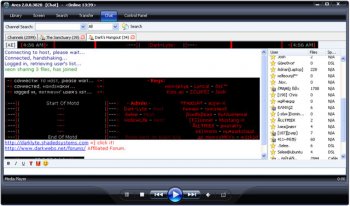 View Full-size
Latest Reviews
smaragdus reviewed v2.2.5 on Jul 24, 2013
Please either download Ares via FTP or use the following link:

http://heanet.dl.sourcef...egular225_installer.exe

Otherwise you will get an AD-WARE Bundled Stub Dwonloader.
some guy reviewed v2.2.0 on Jan 21, 2013
good program dead network
JustinUT79 reviewed v2.1.5 on Feb 9, 2010
This is the cleanest, fastest, and smallest P2P program available. I am very pleased to see its authors are once again continually releasing updated versions.
some guy reviewed v2.1.5 on Feb 9, 2010
for this type of p2p best in it's class
bobad reviewed v2.1.0 on Nov 26, 2008
Absolutely great P2P program. No Java required. No spyware. Easy configuraiton. Fast downloads. I can find exactly what I want and have it playing within 30-40 seconds, so it's really the easiest way to grab MP3's. What more could you ask?
radiomaffia reviewed v2.1.0 on Nov 25, 2008
When P2P progz have support for torrents they are mostly blacklisted by torrentforums and why do you think they support torrents?Yes : P2P itself is so out-of-date
There are so many other ways find youre MP3, video or whatever, ever heard of tagoo ru (?)or Bit-Che torrentsearcher, katz cd, newsgroups, the list goes on on and on.. music& and more everywhere. P2P is so something of the past..
The only thing that is a nice feature is that has chatforums, but also there are soo many alternatives like IRC Chat
serrebi101 reviewed v2.1.0 on Nov 25, 2008
Love it! Everyone should at least give it a try!!
Landsnes reviewed v2.0.9 on Jul 8, 2007
Absolutely brilliant file sharing program! I find this program far better than other file sharing programs that I've used! I usually get many hits when I search for various files and the files download fast. It also handles torrent files very well!
RaGhul reviewed v2.0.9 on May 17, 2007
I hope not to offend anyone who rated this highly. I prefer not to engage in a heated 'back-and-forth' exchange. I just speak from my own experience as the manager of a small internet center.

At first, I thought this would be a good alternative to LimeWire and KaZaa, being that it's OpenSource. However, every time a customer downloads and runs this app, our network goes down.

You would probably like to say that this is due to a poor wiring/configuration job. I might even agree with you, except for the fact that Cabos causes no such problems.

After I turn off the computer running Ares, the internet comes back for the rest. And scanning with Spyware Doctor finds a few nasties, too.

Please use with caution.
the artist reviewed v2.0.8 on Mar 27, 2007
Absolutely looove this program!!! It's clearly the best of the best!!! Download speeds are blazing (obviously, the more stars a file has the faster it gets), it's clean from malware, it's light and rock stable and interface is modern, fast, responsive... A true example.

My wish came true by the way, about a dark and a light skin... well, it was a predictable feature maybe.