File Details

File Size
1.9 MB
License
Freeware
Operating System
Windows 2000/XP
Date Added
January 26, 2007
Total Downloads
8,955
Publisher
Arovax LLC
Homepage
Arovax Shield
Publisher's Description
Arovax Shield is a personal security solution that is unlike to any firewall, anti-virus or spyware remover. Rather than looking for spyware traces or tracking applications that secretly send or receive data over the Internet, it blocks any attempt by malicious software to add entries to the auto-start menu, change the registry, hijack or install itself into a browser or find any other way to stealthy get itself onto a PC.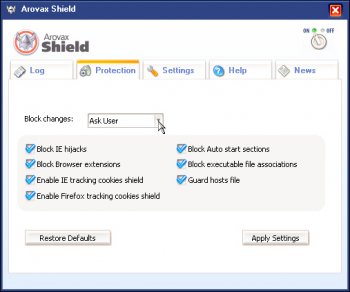 View Full-size
Latest Reviews
FmlyRnn reviewed v2.1.82 Beta on May 11, 2008
I find this Program "Outstanding" on XP, and while at their Site [http://arovaxshield.com/news.php?id=16] I found that, and I quote "Arovax Shield is completely compatible with Windows Vista".

Latest release of Arovax Shield is completely compatible with Windows Vista. Besides that, Arovax Shield reacts to the spyware and adware threats much faster now. New version includes fixes to the bugs which lead to AS failure. In general Arovax Shield has become even more reliable now and it will certainly effectively protect your PC system from all the harm by the malicious software.

I have installed it on Vista with no problem. Also, it does support Opera. Furthermore, it is a very useful tool for my System's, it will remind one of SpyBot's "TeaTimer" but I think it does the job a little better and less intrusive.
E.T reviewed v2.1.82 Beta on Jul 23, 2007
I give it 3 rating because of

There is alot of missing features such as:

1. no features for blocking "all active-X" and blocking by "active-X blacklist" !
2. prompt me if active-x code being installed in my system.
3. no built-in Anti Scanner engine.
4. no built-in Host manager like B.I.S.S Host manager.
5. no Script blocker.
6. no built-in strong heuristic Antivirus protection shield engine.
7. no strong Keystroke prevention.

If 7 features are implemented in arovax shiled it will be a powerful soft protection ever.

BTW: new release is out version 2.1.103
Tao2005 reviewed v2.1.82 Beta on Jul 11, 2007
Great Program, don't get me wrong. But doesn't support Opera. I do use opera, and I it's an excellent browser. Very fast, and more reliable then IE. IE is a big joke and an insult to browsers. So I guess IE needs all the help it can get. Use to use this program till IE corrupted my PC.
shxrobert reviewed v2.1.82 Beta on Feb 7, 2007
Although not perfect (it is a beta) I think overall its a good solution for what it claims to do. I feel some should fully read what this product is designed to do at the home page http://www.arovaxcompany.com/
It is not a remover program. Its more (I feel) along the lines of products similar to http://www.javacoolsoftw...com/spywareblaster.html (SpywareBlaster 3.5.1) or 'preventative software'.

A common misconception is that by using other popular alternative browsers one's completely invulnerable to spyware/adware threats. Yes, this means Firefox and Opera are subject to spyware/hijacks/malware/etc. True, they may not be as vulnerable as IE but nonetheless they are vulnerable, which is directly proportional to their popularity. So please think twice before misleading someone to think they should simply just switch browsers by saying "Use firefox... enough said." or "Opera pwns all" it is simply not true.

I feel this is a good program for both novice and expert users. Any program.. I feel.. that is simple for people to use yet has tools that can aid a more experienced user, tends to live a long future. 4/5.
toasale reviewed v2.1.82 Beta on Jan 29, 2007
You gotta be quite low versed on the security scene, if you go with this title. Even Ad-Aware and Spybot beat this clunker.
Aserone reviewed v2.1.82 Beta on Jan 28, 2007
This program is geared towards IE , best security advice don't use IE.
Firefox the best
some guy reviewed v2.1.82 Beta on Jan 27, 2007
This program is geared towards IE , best security advice don't use IE.
Opera the best
Yannis_GR reviewed v2.0.75 on Jan 2, 2007
This program is a must for anyone.
Grab it right now!
btman reviewed v2.0.75 on Dec 28, 2006
Awesome program, works great, doesn't conflict with any other programs, and has a fair amount of updates. One of my favorite programs.
Nikkie reviewed v1.3.15 on Oct 30, 2006
I put this on my parents computer to make sure they don't allow something in without knowing.It is a very handy little tool that just sits there and does its thing.Small and lightweight.It's very nice to have.I am installing it again on my clean install of xp...good stuff!!

btw,the firefox problem is real.you cant uncheck in the box and even if you do (which goes back to being checked anyway) it reads as an error on start-up..that really needs to be fixed.