File Details

File Size
7.8 MB
License
Freeware
Operating System
Windows 2000/XP
Date Added
August 24, 2007
Total Downloads
12,062
Publisher
Ambient Design
Homepage
ArtRage
Other Versions
Publisher's Description
ArtRage is a painting package designed to provide a realistic and fun simulation of using paint on a canvas, along with pens, pencils, crayons, and other tools. You can run ArtRage on a normal Windows machine with a mouse, but it works particularly well if you have a graphics tablet. Even better, running it on a TabletPC takes advantage of the unique interaction of pen and screen to produce a realistic painting feel.
ArtRage Starter Edition gives you 8 painting tools and lets you create, save, and print as many pictures as you like and doesn't limit their size.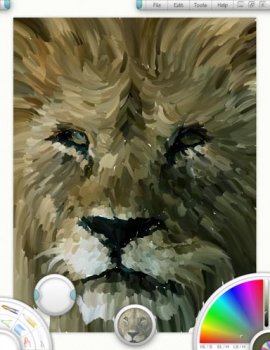 View Full-size
Latest Reviews
Cris3 reviewed v2.5 on Oct 29, 2007
My brother is a professional artist and he loves this program. It works well with a pen tablet and has the feel of real art mediums without the mess of cleaning brushes.
uberfly reviewed v2.5 on Aug 25, 2007
Amazing software. It's well written and very intuitive. Useful even for the very young.

hell0 - ???. Don't rate apps as crap because they may be mis-labled. Your slobbering effects us all. Go wipe your mouth.
hell0 reviewed v2.5 on Aug 24, 2007
Crippleware. Please relabel this crap.
Diam0nd reviewed v2.5 on Aug 24, 2007
A unique thing really. Mind-blowing stuff.

hell0
You're a g**d*** moron. There are two versions of AR: Starter Edition and Full. Starter is limited by tools one can use, but thats the only limitation (it does not have neither adware nor any banners). If you'd like more, buy the full ver. Next time I suggest you actually TRY the program, before openly showing your idiocracy.
molumen reviewed v2.5 on Aug 24, 2007
ArtRage is simply THE BEST in its class. Even Corel Painter cannot match its speed and accuracy... 5 stars!
JEdwardP reviewed v2.2 on Mar 19, 2007
I've been a digital artist since 1994, and I'd yet to see a program quite like this one. Its painting tools yield amazingly realistic results.

Very few programs' free versions have ever influenced me to upgrade to their paid versions, but this one did so very quickly, especially since the paid version is refreshingly inexpensive.

If you're an artist, you're very likely to fall in love with this software within a few hours of trying it. It's one of the best programs I've ever used, of ANY type.
tannman1 reviewed v2.2 on Mar 17, 2007
Awesome program....Nuff said
Diam0nd reviewed v2.2 on Mar 17, 2007
Simply amazing. It's small, creative, flexible, and so so cheap. This program is kicker. Adobe PS can't even drean of most of what AR can do. This is stuff for REAL painters and simply creative people!!! Try and you'll never wanna stop using it :D
ahjefri reviewed v2.2 on Mar 17, 2007
Very Nice program ,,
ds0934 reviewed v2.11 on Mar 3, 2007
I thought this download was for the free version, but it's only the patch for the full version. I downloaded the free version, played with it for about 30 minutes, and purchased the full version. It's THAT good.