Publisher's Description
Ashampoo Burning Studio is a powerful software to burn data, movies or music to any CD, DVD or Blu-ray disc. The software also comes with excellent multimedia features that let users create, edit and burn their own movie and slideshow discs. Multimedia capabilities include custom animated menus and designs, opening and closing credits as well as auto-play for nearly endless possibilities. Resulting files and discs are playable on almost any device thanks to built-in support for popular formats like MPEG-4, H.264, AAC, MP3 and WMA. Not only does the program also create MP3 and standard audio discs but also supports disc-ripping with automatic track naming and cover search. The integrated cover editor has been redesigned to make it even more easy to create custom covers, booklets and inlays or disc labels. Thanks to disc spanning, data can be spread across multiple discs automatically and scratch protection ensures readability even for damaged discs. The comprehensive backup section features smart backup plans with support for multiple device categories like cellphones, tablets, MP3 players and more. Latest additions include a completely new start page with carousel-like navigation and detailed explanations, a customizable favorites bar for quick feature access and a ubiquitous home button to return to the start page from anywhere within the application. The multimedia feature set has been extended with support for video rotation and automatic image optimization for slideshows and the popular car radio module now features over 1,800 different models by default.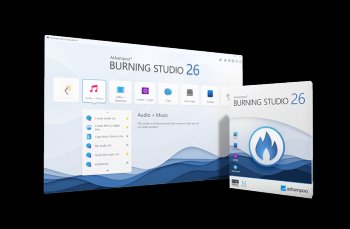 View Full-size
Latest Reviews
some guy reviewed v19.0.3 on Dec 5, 2018
Ashampoo Burning Studio 19.0.3 really shines in backing up them ol Cd's. I still use Music Bee for that and it is free
LakotaElf reviewed v18.0.1 on Jan 6, 2017
Not all things are free, I have been using their software for years and it is most excellent and so is their tech support. I hav e found no deception in them at all. Give a report on their software, that is all that is necessary...
some guy reviewed v16.0.7 on Jul 26, 2016
not free not a bad program though! 2 star removed for misleading
some guy reviewed v14.0.9 on Oct 29, 2014
not bad like Nero it has become to bloated ! image Burn my choice ..
Music4Ever reviewed v14.0.9 on Oct 29, 2014
Good burning program though seldom used these days as hi-fi on streaming .flac now & rarely burn CD/DVD these days so 14.xx will probably be these last version I buy - One of the better burning programs & easy to burn ISO,CUE, Bin etc. ~
BANDIT- reviewed v14.0.5 on Apr 8, 2014
@Music4Ever Is "Another" who uses BullyBoy tactics. He/She likes to review the "Reviewer" Instead of the Application..... Perhaps a significant Review Including tests & Pro's/Con's would be more appreciated by the Peeps/Members who are Maybe not familiar with App's (that you think you are)..!!

As for condemning a reviewer & suggesting that they should be Banned Is
"F A R" from anything which should be published on "OPEN" Public Boards. Anyone who has registerd with ff.betanews, Has the right to post a review (Be it Good or Bad). These Boards are "Open" & Due respect to members & Peeps should be Adhered to. What do you think Anyone browsing the Forums will think about Tit-4-Tat Running battles..??

Opinions about App's EG:... Yuk .. No Good .. Rubbish .. Crap.. ETC ETC.
Isn't a review & NOT helpful to..... Noobs.. Site visitors.. Registered Users.
Reviews that JUST say "1/2/3/4/5 star". Tell the Boards Why..??

@M4Ever .... You had a go at me here....
http://fileforum.betanew...315434896/1?all_reviews

My Review of App's Are posted as a deterent for anyone who has never tried
them before. Not as you suggest that I think Everyone is Thick. IF I say I've not tested an App. That means "This" particular Version. It doesn't mean I've "never" (Used/tested/tried) it.
-
Yes..!! I've worked in warez.... Yes..!! I've worked with Software in many countries.... Yes..!! For many years..... Yes..!! I am Admin in Software Forums.
Yes..!! Hacking, Cracking.... The list goes on.

I don't usually rise to Critics. I just Get their Info's & make it Public.
DO NOT think I can't get "your" Info..!!
Here's a starter. h**p://~~~mit.edu @xXDogloverXx thnx! ...... & girlsgames.

Anything Ashampoo ... 0*
Betanoob reviewed v14.0.5 on Apr 7, 2014
Funny how music4ever is a fanb0y of sh1tware!!
Music4Ever reviewed v14.0.5 on Apr 7, 2014
Isn't it about time Betanoob was barred from this forum?

@ BANDIT : - I 'had a go at you' because you in the link you posted did not install the software so how can you review that? I stand by that statement, You simply cannot review something you have never used recently.

FUI - I have put 2 reviews of this software (Ashampoo Burning Studio) if you care to scroll down a little

As for Betanoob his/her reviews recently called the German firm Ashampoo a term used around WW2 which is highly illegal in Europe & has no place on any site public or not, actually that review was removed as I reported it - Such comments not only can cause legal proceeding against the person but also the site hosting the comments - If you really have anything to do with IT you would certainly know that? It does seem from your own words you are a hacker/cracker & warez distributor, though highly unlikely but still unwise to post such comments on a public forum don't you think?

Noobs other pointless reviews usually contain expletives & have referred to stealing software off 'The Pirate Bay' which it thinks is preferable to buying software & I think it's time its brainless reviews were removed - Disagree if you wish, although it seems you may do the same.

On this review you yet again haven't reviewed the software as it's obvious you don't use it & just has a prolonged rant, this software is pretty good & an great alternative to Nero, read up before you comment next time please, or do you feel you are some sort of tech guru? You gave this software 1 star, can you explain why, you have yet to do that ~

Your recent review on 'RegSeeker' : Once again you haven't used it, I agree with you the registry cleaning part being dangerous but I know that because I ran it, recently & years ago - You however did not & just made a generic comment regarding it, unless 'Not Tested' does mean installed & ran?? - At the very least run programs you review or don't type, that's not so complicated is it?

I never review software I haven't tested.

Oh & BTW I've worked with PC's/Servers since day one & no I'm not German & not into Warez either & forgot more than you will ever know :-)

As for your moronic comment RE: 'Making my info public' - Is that a threat? Yet another unwise comment to make - What an edjit you really are ! Says lots about you & your overwhelming crass stupidity & lack of intellect - You get no stars.
Music4Ever reviewed v14.0.1 on Nov 27, 2013
Good program though more effort should have been put into CD ripping options as HQ streaming is taking over fast from disc.

Betanoob doesn't like anything unless it can thieve it from 'Pirate Bay' & then admit it on a public forum - What an edjit !
Betanoob reviewed v14.0.0 Beta on Nov 21, 2013
Call it what it is.
Sh1tware from spammers!