Publisher's Description
Ashampoo WinOptimizer makes Windows PCs faster, cleaner and more discreet. The system analysis at launch time provides numerous options to optimize and clean your operating system right from the start page. The built-in cleaner modules have now become genuine classics and rid your machine of even more web browsing traces, temporary files and leftover files from software uninstallations. The cleaners are record-breaking both in speed and thoroughness. Auto-Clean, Live-Tuner and Game-Booster keep your system clean and ensure that programs launch faster and games run more smoothly. For a condensed but always up-to-date system overview, WinOptimizer comes with data-rich dashboards that also act as quick shortcuts to essential modules. The tweaking module allows for individual Windows customization and features all the latest tweaks also for Windows 11. WinOptimizer comes with Privacy Traces Cleaner to hunt down and eliminate privacy-related data, and a new question-based tuning assistant for custom system optimization. The popular 1-Click Optimizer now bundles four modules for superior cleaning results and, as a first, the program now relies on Windows Notification Center for smooth and unobtrusive status updates. Finally, performance and information presentation has been improved across all 30 WinOptimizer modules and new features have been added.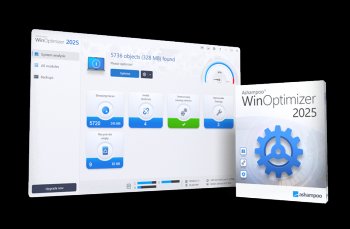 View Full-size
Latest Reviews
Music4Ever reviewed v15.00.00 on May 15, 2017
Not bad, many of the utilities are simply duplicated in Windows, the cleanup tool is surpassed big time by CCleaner - O&O ShutUp does a far better job of Windows 10 telemetry leaks & is again free. I don't even think it overwrites browser history which again CCleaner does. OK if you pay £7 or under $10 but pay no more - A few interesting modules in it but not many. Needs more thought to be put into it.

Of all the cleanup utilities IMO Wise 365 is probably the best.
Raimondas reviewed v12.00.30 on Jul 11, 2015
It works ok. It will optimize and clean your PC. But to clean PC I prefer to use WinUtilities Pro.
CyberDoc999 reviewed v11.00.41 on Aug 8, 2014
not good at all
Music4Ever reviewed v11.00.41 on Aug 5, 2014
I'm not fond of this or any other fix all utility programs - 30 years ago with Win 95 maybe, but most internal Windows settings can be enabled by using 'GOD Mode' if you really feel the need, registry cleaners can cause more problems than they solve - Using a free program such as CCleaner is really all you need.
BANDIT- reviewed v11.00.40 on May 10, 2014
The more I look at the details of this App.......
The more I see this.... @http://launcher.nirsoft.net/download.html

What Nir cannot match with AWO, can be done via the Registry.
I don't use tweeking App's & never have. $40 to screw a System = 0*

I mentioned in another Ashampoo review about Site certificates.
Unsafe:: @http://s20.postimg.org/k6t3ziq4t/Ash_Certificate_bandit.png

http://s20.postimg.org/dl25b5p71/DISCLAIMER.png
some guy reviewed v10.03.00 on Nov 22, 2013
As stated with many products like this Speed up my PC ect... their is no all in wonder program that will fix your PC most of these programs will do more harm then good
Betanoob reviewed v10.03.00 on Nov 22, 2013
Free on the pirate bay.
2 uploads today.
All their software is sh1tware
mike59 reviewed v9.04.31 on May 24, 2012
Only a fool would buy this scamware!

Look at the fools below. Look like fanboyz. ROFL! Yeah your computer is faster noob!

These losers make scamware and they LOL at the noobs that pay for it.

Notice the word poo in their name? First clue...
LakotaElf reviewed v9.4.0 on Apr 20, 2012
Been using the program for a few years now, never ever had a problem with it, it does what it says it will do. I am pleased with it. Those who complain about it or call it names either have no idea what to do with it or do not need a computer. I have never had a install or uninstall problem with this software on windows 7 X64..
DKDude reviewed v9.0.0 Beta on Feb 2, 2012
Yet another great update.
Preordered my key a week ago.
Love this program.