File Details

File Size
1.6 MB
License
Freeware
Operating System
Windows 2000/9x/Server 2003/XP
Date Added
February 9, 2004
Total Downloads
585,353
Publisher
Jackie Franck
Homepage
Audiograbber
Publisher's Description
Audiograbber grabs digital audio from CDs. It copies the audio digitally - not through the soundcard - which enables you to make perfect copies of the originals. It can even perform a test to see that the copies really are perfect. It can also automatically normalize the music, delete silence from the start and/or end of tracks, and send them to a variety or external MP3 encoders, such as Fraunhofers L3enc, or even use some MP3/WMA encoders internally for automatic creation of MP3s. It can download and upload disc info from freedb, an Internet compact disc database. You can even record your vinyl LPs or cassette tapes and make WAV files or MP3s of them.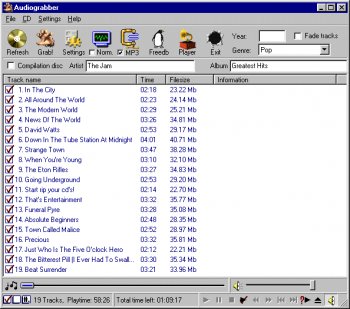 View Full-size
Latest Reviews
CARLOS SILVA reviewed v1.83 Build 1 on Feb 11, 2011
Audiograbber
trents reviewed v1.83 Build 1 on Nov 24, 2010
One of the finest programs ever created for ripping cds.
I have been using this program from its start and it has never failed.
This is true and been tested one..
simbad dzanic reviewed v1.83 Build 1 on Nov 17, 2009
rdthrdjtzjdtj
elkal000 reviewed v1.83 Build 1 on Oct 6, 2009
The best ripper I've ever used!
winter123 reviewed v1.83 Build 1 on Mar 23, 2009
Thank you!!!!!!!!!!!! I was trying to rip a very rare album off CD using itunes, and about half way through it just completely stopped! I managed to get it two more tracks at about 2x speed, then the final two tracks no matter what I did it would not rip the last two. It always got stuck and would not even play the tracks. I tried to clean it with a microfiber cloth but it just got scratched and got worse.

Then I got Audiograbber- 21x constant speed into WAV files and the quality is perfect! It only paused once saying error presumably cause of the scratches, but it went right back and did it correctly at 21x. I don't know how the creators did this but it is amazing!
GrailKnight reviewed v1.83 Build 1 on Feb 25, 2009
One of the finest programs ever created for ripping cds.
Works fine on Win7 Pro.
iamnotyou reviewed v1.83 Build 1 on Jan 7, 2009
A sweet little program , it does everything I need it to do with a very small install size. Get this and a copy of LAME and you can rip your CDs with ease.

Highly recommended.
dono1216 reviewed v1.83 Build 1 on Mar 26, 2008
4 years since its last release, I still come back to Audiograbber. At least the Lame encoder is still being updated. The dynamic sync works nicely with my old banged up scratched CDs. Everything works fine in Vista, even SP1.

The only time I don't use Audiograbber is when the CDDB can't find the album info and the Media Guide in WMP can. Which unfortunately seems to be the case with *many* new albums. Of course, that's not Audiograbber's fault.
Landsnes reviewed v1.83 Build 1 on Jul 8, 2007
For me, this audio ripper is perfect! I mainly use LAME for encoding my MP3-files, but LAME is not included in the program. On the author's site you can find a link to where you can download the latest version of LAME for use in the program. Audiograbber is fast and I've never experienced any problems with it. Full score.
grimpr reviewed v1.83 Build 1 on May 18, 2007
The PC audionoids use ExactAudioCopy which is ofcourse a superb freeware program, but Audiograbber excels at providing a more friendly interface for the newstart along with some powerful options like updating the LAME and OggVorbis encoders with a simple copy paste procedure. Overall an excellent and usefull program.