File Details

File Size
34.6 MB
License
Freeware
Operating System
Windows 7/2000/9x/Vista/XP
Date Added
November 16, 2011
Total Downloads
1,020,154
Publisher
TrustFm
Homepage
Avi2Dvd
Publisher's Description
Avi2Dvd is an all-in-one tool that converts avi/mkv/ogm with few clicks in a vcd/svcd/dvd. It uses only freeware tools and can handle varius freeware enconders (QuEnc/FreeEnc/NuEnc).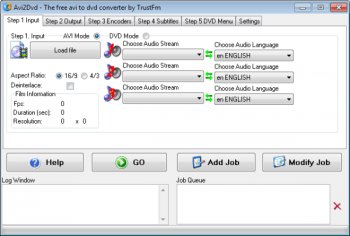 View Full-size
Latest Reviews
Timoleon reviewed v0.6.4 on Nov 17, 2011
Great piece of software --- very easy to use, and reliable. I've had no problems running it under XP, Vista, or 7, and I've used Avi2Dvd well over a hundred times. The only issue I've ever had is that running under Windows 7, it reduces the screen color depth --- which reverts back to normal after you close the program. The reviewers here knocking Avi2Dvd perhaps are writing from Bellevue, or studied mathematics under Professor Forrest Gump.
opensky reviewed v0.6.1 on Nov 9, 2011
DO not waste your time. Too complicated and I am surprised why such crappy software gets 5star ratings in your review....The only plus point is that it is free. There are a few other free good ones like DVDflick.
George Bush reviewed v0.6.1 on Mar 25, 2011
My experience with Avi2DVD was not good. It kept crashing despite installing it correctly. It refused to close when I had finished using it. It also refused to un-install from my computer and even after re-installing it I could not remove it.
Take my advice and STAY AWAY FROM THIS SOFTWARE! It's so full of bugs that it's not worth the trouble. ZERO OUT OF TEN.
some guy reviewed v0.6.1 on Sep 9, 2010
horrible interface way to much configuration for the average Joe, will stay with ConvertXtoDVD, needs more flags on the interface.
DannyVeyt reviewed v0.6.1 on Sep 8, 2010
turkish malware !!!
qoo119457 reviewed v0.5 on Jun 20, 2010
e03uv,4su3 5p 2k7cp3s o4 ji3ji3jig 3jklas t
andyabreu1894 reviewed v0.5 on Oct 27, 2009
Excellent missleading promotion. This software is a trap.
Registered reviewed v0.5 on Aug 21, 2009
a brilliant program, been around for a while, not updated as much as i wished it was, but there you go,

this program is solid, and more importantly works with a high quality Encoder (HCEnc) and of course supports old versions of CCE (although HCEnc is preferred for low bit rate conversions)

don't get me wrong, ConvertXToDVD is good, but it is a trans-coder (FFMpeg and libavcodec) like many, so quality would never for the forseable future come close to what HCEnc can produce, (i don't feel that trans-coding would ever be as clean, crisp and sharp as a full fledged high quality encoder (CCE, HCEnc, Tmpgenc)

Avi2Dvd interface i agree is very messy now, go back to when it first came out it was acceptable to the current standards, but not anymore, the flags are way to cheesy now, and the whole GUI in general looks very cartoony,
because of the old and quite unuser friendly GUI I'm only giving 4 points not the full 5, however it still has it where it counts, if only the horrible GUI didn't hinder the program so much.

my eye at the moment is on "AVStoDVD", this program is quite good aswell, and again utilizes the wonderful HCEncoder, not as resilient as Avi2DVD, but definitely won't be long considering the excellent support it's getting, and the GUI is of course up to the current standards with some nice soft colors,

but for quality, i choose AVStoDVD, but i always have Avi2DVD on standby just in case i need it,
gundamboyzack reviewed v0.5 on Aug 21, 2009
Interface has too much going on in it, I'll stick to DVDFlick.
roosters reviewed v0.4.5 Beta on Aug 10, 2009
When I click on the GO button, this error message appears - AVI2DVD.EXE has stopped working, so therefore cannot get this program to work at all.