File Details

File Size
9.2 MB
License
Freeware
Operating System
Windows 2000/9x/Server 2003/XP
Date Added
March 19, 2015
Total Downloads
7,505
Publisher
Awasu
Homepage
Awasu
Publisher's Description
Awasu is a RSS client that lets you monitor news from thousands of web sites and blogs around the world. Unlike other RSS clients, it has a powerful plugin architecture that allows you to monitor absolutely anything at all, even if it doesn't provide an RSS feed. For example, samples are provided that let you monitor a database, notifying when changes are made.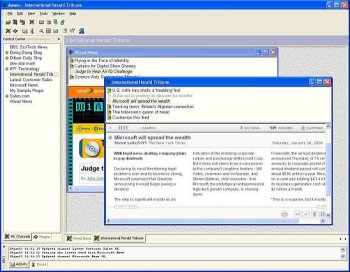 View Full-size
Latest Reviews
BANDIT- reviewed v3.0.1 Alpha 2 on Sep 23, 2013
I looked at the brief Preview on ff.betanews Homepage & decided to Test this App. When i saw the review by guru_v,... (Google >> BCGCBPRO953u.dll).
Sites that are listed as Hosting BCGCBPRO953u.dll throw up this warning..
- "Access to the web page was blocked by ESET NOD32 Antivirus. The web
page is on the list of websites with potentially dangerous content".

I would usually pursue this type of App from further afield so as to warn
Members/Browsers at ff.betanews of potential threats. READ the review by @guru_v ... And add this crap to the TOP of your Sh*tList.

5* for being a waste of Space...... 1* cos I can't give Negatives.
guru_v reviewed v3.0.1 Alpha 1 on Jul 22, 2013
Apparently, this is as large a steaming pile as it was the last time I gave it a chance. After opening the ZIP file, to find no installer, I tried using the LAUNCH and AWASU executables, neither of which worked, with the AWASU executable giving an error that the program could not start because of the lack of BCGCBPRO953u.dll. This file is not to be found in the download, and upon trying to find it, I found several reputable sites warning against using anything that included it.

So, once again, this mess is put up here, without the ability to try it, and also the fact that it should come with a cautionary message if one does decide to obtain the missing DLL.

Perhaps the person[s] putting up these files should try them before unleashing them upon the unsuspecting public. Three years ago, the last time I tried this program, it was something that was CONSTANTLY nagging the user to purchase, from the very first instance, and so annoying with the nags that I removed it after three days.

I am considerably less tolerant than I was three years ago.

To whomever develops this - you need to have something that works, in order to evaluate it. If it needs to be a multi-step process for installation, then include a README file. Otherwise, do not release crap such as this, for it only annoys those who might try to give it an honest try, and then, possibly purchase.

A range of negative stars is needed, because I wasted my time on this [again]. I won't be fooled a third time.
sarah89 reviewed v2.4.3 Alpha 2 on Aug 3, 2010
hiiii.........
it seems impossible who they hide the cost and all...
...good work... very much appreciable.... =(
hope in future it will not goon....

__________________________________________________=)
For connecting to remote desktop of another computer (via internet or network) and controls. Also connecting to VNCServer through Repeater or directly to VNCServer and a lot of other configuration options. For more details [url=http://www.abtollc.com/VNCViewer.aspx /]VNCServer [/url]
dhry reviewed v2.4.3 Alpha 1 on Jun 3, 2010
Unimpressive. Grab Greatnews instead. http://www.curiostudio.com/
DaComboMan reviewed v2.4 RC2 on Dec 15, 2008
kbsoftware,

There's a "personal" edition which is free.
kbsoftware reviewed v2.4 RC1 on Dec 11, 2008
Disgusting how the others hide the cost etc. Say a lot about their character, that's why I'm adding this program to the ignore list.
KingSky reviewed v2.3.4 Alpha 1 on May 6, 2008
Boo to this. If you look on the homepage of Awasu they have carefully removed any trace of 'buy' or 'purchase' links, making it difficult for Betanews to actually confirm its freeware/shareware status. I would not want a program on my computer from a developer that does that.
igoldsmid reviewed v2.3.2 Alpha 2 on Oct 24, 2007
Very unimpressive - cheeky developer really charging so much when several of the free ones, even web based work better.

For example, I exported my google reader subscriptions to an XML file. I imported them into Awasu, and most of them gave errors and wouldn't display. Whereas I imported the same xml file into GreatNews (free) and they all imported perfectly, really fast.

Total thumbs down to Awasu.
guru_v reviewed v2.3.1 Alpha 1 on Jul 12, 2007
I find programs like this very annoying. It's almost as bad as UAC with Vista. The nag is always on, asking the user to buy.
Zebbie79 reviewed v2.3 RC2 on Mar 15, 2007
The free version is very limited and nags you of buying the full version.