File Details

File Size
10.5 MB
License
Adware
Operating System
Windows (All)
Date Added
July 1, 2020
Total Downloads
298,620
Publisher
BSplayer.Org
Homepage
BS.Player
Publisher's Description
BS.Player is windows player for playing back avi, asf, wmv, and mpeg video files or any other file for which you have a codec.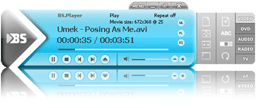 View Full-size
Latest Reviews
olivergiving reviewed v2.65.1074 on Sep 25, 2013
5 stars all the way
alexalex reviewed v2.58.1054 Beta on Aug 24, 2011
This player has low memory consumption, great interface. Not as you said it's adware.
Richardky reviewed v2.58.1054 Beta on Aug 2, 2011
All this BS is making my head spin i almost vomit !! .. looks like something you would use on windows 98 .. back in the good old crapware days .. there are really nice clean freeware alternatives like UMPlayer which will play anything you throw at it and you dont need to download any codecs .. splayer is another nice one .
trents reviewed v2.57 Build 1047 Beta on Nov 25, 2010
Hi,
That is true BS.Player is the best multimedia player in the world! Ever since it has been one of the world's most popular multimedia players.
Kajman reviewed v2.57 Build 1047 Beta on Nov 18, 2010
Outdated UI, there are many free players with more function:
MPC, VLC, Gom, KMPlayer, PotPlayer, Splayer...
shallot reviewed v2.57 Build 1047 Beta on Nov 17, 2010
There are others which do every thing this B*** S*** player does and more...

1. WMP11
2. Zune
3. FooBar2000
4. Media Player Classic
5. VLC
XXXXXXX reviewed v2.53.1033 on Apr 20, 2010
Outdated UI, Free Version does not support HD Quality Video and Audio-You want HD Quality you have to buy the Pro Version.

Gom Player is far superior. Gives you everything you would have to buy in BS. Player Pro for free and much more.
Slipped it in reviewed v2.52.1024 Beta on Feb 26, 2010
Yes this is a BS Player. No support for AMD's Avivo video processing. What a piece of crap.
bopb99 reviewed v2.52.1023 Beta on Feb 5, 2010
@Blaxima
I can watch rmvb with vlc media player version: 1.0.3!!!
(Download or update vlc media player and try it)
cristina123123 reviewed v2.51.1022 on Feb 3, 2010
Short BSplayer review vith old version changelog.
http://www.downloadoldversion.com/bsplayer.html

Hope it helps...