File Details

File Size
130.7 MB
License
Shareware, $49.99
Operating System
Windows (All)
Date Added
May 6, 2021
Total Downloads
5,573
Publisher
Softland
Homepage
Backup4all
Publisher's Description
Backup4all protects your valuable data from partial or total loss by automating backup tasks, password protecting and compressing it to save storage space. You can easily backup to any local or network drive, backup to FTP (with support for SSL encryption, proxy server, passive mode), backup to CD/DVD, or other removable media (such as USB drives).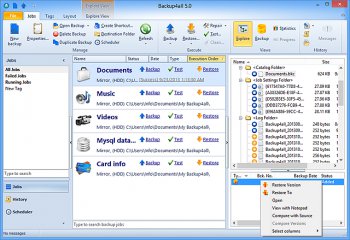 View Full-size
Latest Reviews
rutherfordpaul reviewed v6.1.176 on May 17, 2016
Why not use VeeAm?
There's a free version which is easy to use (possibly to easy).
It's fast.
VeeAm claims the full version is used by over 100K corporates.
Why hasn't this put ALL the simple backups out of business?
Search me!
CyberDoc999 reviewed v5.5.835 on Oct 14, 2015
too expensive
uberfly reviewed v5.0.300 on Dec 10, 2013
The best backup software. For those of us who know how to use the ribbon interface, it's no problem. Been using since v3 and have only had good results.
smaragdus reviewed v5.0.300 on Dec 10, 2013
Version 4 was good but the new ribbon interface ruined it despite the new cloud features.
Diam0nd reviewed v4.0 Build 120 on Jan 8, 2009
This is a best pay backup software I've ever seen. It has the most amazing set of options, it looks slick and beautiful (the gui I mean), and it's constantly maintained. This is #1 in my backup book. #2 is SyncBack Pro btw.
kubesa reviewed v3.4 Build 227 on Sep 28, 2006
It is much better now, this build is almost perfect.
kubesa reviewed v3.3 Build 218 on Aug 19, 2006
I`m using this sw aprox. 2 years. Previous version was working realy fine. In version 3.3 I`m still reporting some bugs, but the support is not able to fix them. Quite often I have to build backup from scratch, it`s the only solution for my problems (eg. program is doing full backups instead of incremental, is skipping some files for the backup, can`t merge backups, crash during backuping etc.).
CGA reviewed v3.3 Build 216 on Jul 12, 2006
Absolutely top quality software. Been using it a couple of months now and it has never failed me. Easy to configure but still lots of usable options. Tried a lot of backup and mirroring software but this one I bought.
zridling reviewed v3.0 Build 184 on Feb 13, 2006
It will be interesting to see which backup program adds 7z compression to its core over zip. Backup4all's latest version is very fast.
zridling reviewed v2.3.2 Build 739 on Apr 14, 2005
I've been using DirSync lately for backups, and even though I'm not a fan of the ZIP format, it's impossible to find fault with Backup4all because its developers seemed to have thought of everything. Once you get accustomed to using it, you will love it.