File Details

File Size
9.6 MB
License
Freeware
Operating System
Windows 7/8/10/Server 2003/Vista/XP
Date Added
November 5, 2021
Total Downloads
7,743
Publisher
Bandicam
Homepage
Bandizip
Publisher's Description
Bandizip is ultra-fast file compression software with an easy-to-use interface. It allows you to create your own compressed files such as ZIP, 7Z, TAR, ISO and extract most popular compressed files like RAR, etc.
Bandizip can create Zip, ZipX, TAR, TGZ, LZH, ISO, 7Z, EXE and open RAR, ACE, AES, ALZ, APK, ARJ, BH, BIN, BZ, BZ2, CAB, EGG, GZ, J2J, JAR, IMG, IPA, ISZ, LHA, LZMA, PMA, TBZ, TBZ2, TGZ, TLZ, TXZ, UDF, WAR, WIM, XPI, XZ, and Z archives files.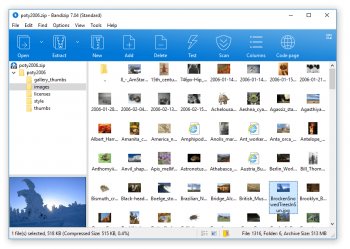 View Full-size
Latest Reviews
some guy reviewed v7.12 on Oct 29, 2020
contains adds time to uninstal
smaragdus reviewed v6.01 on Mar 29, 2017
The start screen and the new ugly flat tool-bar can be disabled but this is another example of very bad taste. The war against colour and gradient started by M$ continues.
reddy.shyam reviewed v6.0 Beta 10 on Aug 25, 2016
Best of the best! Love v6's UI
I like it, does everything.
Perfect with windows 10.
Zoroaster reviewed v5.02 on Oct 10, 2014
's wonderful, 's marvelous!
I finally found the successor for iZArc, a damn good one. Like other softwares of the same company I've tested up to now and am using as well (Honeyview) the application has a professional touch, well thought, clear and no fuss. Handles 64-bit (true), ergonomic, brilliant.
some guy reviewed v5.02 on Oct 7, 2014
impressive !
NyaR reviewed v5.0 on Jun 3, 2014
The best one around, and supports RAR5
chrispaul reviewed v3.10 on Feb 17, 2014
5 stars!
jacobjackson reviewed v3.08 on Aug 24, 2013
nice!
reddy.shyam reviewed v3.08 on Aug 21, 2013
Still the best!

3.08 - 08/21/2013

Bugs fixed

- Failed to open a certain ZIP64 file format

- Mouse pointer moved to the upper left corner when the "Snap-To" function of mouse pointer was enabled.

- Others