File Details

File Size
3.2 MB
License
Freeware
Operating System
Windows 2000/Server 2003/XP
Date Added
February 17, 2006
Total Downloads
56,753
Publisher
Bart Lagerweij
Homepage
Bart's PE Builder
Publisher's Description
Bart's PE Builder helps you build a bootable Windows CD-Rom or DVD from Windows XP or Windows Server 2003 very suitable for PC maintenance tasks. It will give you a complete Win32 environment with network support, a graphical user interface (800x600) and FAT/NTFS/CDFS filesystem support. Very handy for burn-in testing systems with no OS, rescuing files to a network share, virus scan and so on.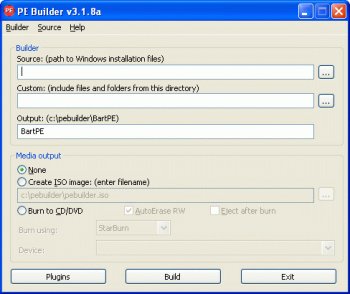 View Full-size
Latest Reviews
oompoop reviewed v3.1.10a on Jul 21, 2009
... remarkable!
herbert reviewed v3.1.10a on Jan 24, 2009
I'm sure it's terrific, but the Getting Started instructions need to be re-written for Newbies like me.

After inserting my original Windows XP Installation CD in the drive, and then clicking 'Yes' to start the search... PE Builder then starts its search.

From here, at no time is there a message saying remove my installation disc and replace it with a blank CD in the drive for BartPE to burn to.
olivheat reviewed v3.1.10a on Nov 29, 2008
Guys, this software is the core of recovery. It saved me nearly £100 in computer repair costs. Simply booted up and sorted everything out.
BART PE IS A MUST HAVE
martygeog reviewed v3.1.10a on Sep 16, 2006
I have used Bartpe since Bart gave free from the first edition to now and its the best program that I have used and I am still using and adding programs to it even now whilst looking for plugins I saw this forum and had to join to say how great this program is.
Barts-the-man reviewed v3.1.10a on Sep 2, 2006
This is an awesome program, who would think you could boot windows xp from a cd, and then be able to run customized programs, that execute directly from the cd. This can be an extremely usefull program, and it's actually not as complicated as it seems. You can even connect to the internet with firefox, it's just crazy, got to love it. This is a must have program for people in the IT business, great for recovering personal files, moving files, or cleaning nasty spyware or viruses. 5 out of 5 in my opinion.
Diam0nd reviewed v3.1.10a on May 20, 2006
It's a life-saviour!
bertpe reviewed v3.1.10a on Feb 22, 2006
Op onderstaande link kan je een voorbeeld iso downloaden, voor deze die het niet zien zitten er zelf eentje te maken. Enkel de FreeWare en ShareWare versies zijn geinstalleerd.
http://one.fsphost.com/bertpe/
wizard68sc3 reviewed v3.1.10a on Feb 20, 2006
Very Impressive.
iamorangehat reviewed v3.1.8a Beta on Jan 11, 2006
Great program. Should be in everybody's bag of tricks.
-Lord- reviewed v3.1.8a Beta on Jan 11, 2006
THis program is absolutely a MUST HAVE for any administrator. You can remove viruses and adware from outside the normal os, burn cd's, repair partitions... the possibilities go on and one. For the person that asked, yes, Nero greater than 5.5 will work. I got 6 to work on mine. With all teh plugins that are available out there and the tools with which to create plugins yourself, no two BartPE environments should be the same (unless you just use what it comes with). My own personal version is up to 5 now, since new plugins come out all the time.

There are not enough good things to say about this one.