File Details

File Size
4.8 MB
License
Shareware, $40.00
Operating System
Windows (All)
Date Added
December 25, 2020
Total Downloads
11,660
Publisher
RimArts, Inc.
Homepage
Becky! Internet Mail
Publisher's Description
Becky! Internet Mail is a multi-featured E-mail client specialized for Windows and the Internet. You will find many features which are expected for an Internet E-mail software, and some of them would be beyond your expectations.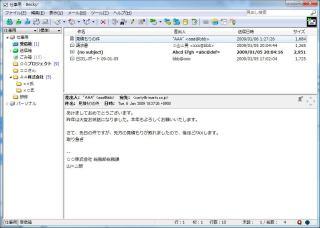 View Full-size
Latest Reviews
sweathog reviewed v2.75.01 on Apr 14, 2020
Outstanding email client that, unlike Outlook and some other email clients, keeps attachments as discreet, separate files so they don't get as easily corrupted as keeping emails and attachments in a single database.

The interface is a little dated but can be improved by installing one of the icon packs at http://www.skwire.net/~apps/becky/icons/
smuttinata reviewed v2.67.00 on Jun 17, 2014
it's kinda like Eudora - so it's easy for me to work on it. Very good email client!!!
chrispaul reviewed v2.65.06 on Feb 17, 2014
very cool
krgood reviewed v2.65.05 on Nov 10, 2013
Agree that Becky is a good email program. Email clients are "to the eye of the beholder" in value. Each to his own as most clients work well. The Bat is good but no Calendar, Outlook lost my email, Thunderbird updates kill installed addons, etc, etc. I have found two good ones but they are not free...Postbox is what Thunderbird should be and EMclient. Outlook replacement..I settled on EmClient as it has been solid with no crashes,lost mail. It is under active improvements but updates slow in coming.

What works for you is a good choice...
sweathog reviewed v2.65.02 on Jun 6, 2013
It's really disappointing that many reviewers on this site consider "free" software the litmus test of "quality" and low rank paid software. In some cases free is better: Open source "WinSCP" is the equal or better of its paid FTP client counterparts. Freeware "MyPhoneExplorer" has features that even paid Android apps don't have. But "Registry Workshop," with its fast search and replace and backup functions, is unquestionably better than the free OEM Windows registry editor. Likewise, Becky Email, with the bullet proof way it archives attachments, searches text and uses memory, is as good as free alternatives like Thunderbird and even ahead of paid email clients such as Outlook in terms of reliability and versatility.
Sven123456789 reviewed v2.65.02 on Jun 4, 2013
Sorry, not paying for something thats already free in other software.
gezley reviewed v2.64.06 on Jan 8, 2013
This client continues to be my favoured mail client on Windows. I only wish there was as good a client on Linux. Light as a feather - after running for hours it's using just over 15MB of RAM. Thunderbird is up to 91MB after less than five minutes. Yesterday I wanted to set up an automatic reply filter. A two-minute job with Becky. Thunderbird? Forget it. I'm sure there's a way if you just install the right plugin. If you can find it. And if you trust third-party developers embedded in your mail software. No doubt the TB fanboys will protest; like the Comodo and Ubuntu fanboys they get very uptight when you criticise their toys.

Never mind. Carry on using TB. I hear you can even download colourful themes for it!

Leave Becky to those who understand its elegance and hidden treasures.

Worth every last euro I spent on it, and I'd do it again in a heartbeat.
stephenstud reviewed v2.63.00 on Oct 3, 2012
Works good, but Im sorry to say I still prefer The Bat.
TomA102210 reviewed v2.63.00 on Oct 2, 2012
If you're new to this fileforum board you probably don't realize that some guy has nothing good to say about any software. It's doubful he even tests it. As for AOL, they ain't dead by a long shot as much as you'd like to think so. Get used to Aol being around for quite some time.

This program works as designed. And no, like many, I wouldn't pay the price after the time out period.
some guy reviewed v2.63.00 on Oct 2, 2012
doesn't hold a candle to thunderbird now go away and die like AOL did and Real Player