File Details

File Size
4.1 MB
License
Freeware
Operating System
Windows 2000/9x/Server 2003/XP
Date Added
December 26, 2006
Total Downloads
43,129
Publisher
TheSHAD0W
Homepage
BitTornado
Publisher's Description
BitTornado is a powerful and easy-to-use BitTorrent client which provides not only full BitTorrent protocol implementation but also many personalization functions.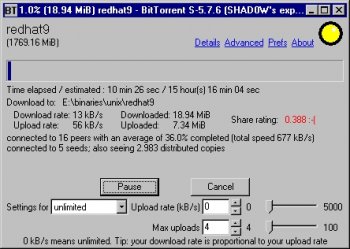 View Full-size
Latest Reviews
guti reviewed v0.3.18 (Experimental) on Dec 26, 2006
It is improving quite fast, but I am stick with uTorrent.
xrayspex reviewed v0.3.18 (Experimental) on Dec 26, 2006
Now includes encryption.
This and utorrent are my fav clients
DudeBoyz reviewed v0.3.17 on Oct 19, 2006
Works ok on my XP setups, though it is not as stable or easy for me to use as Utorrent.

Still, for basic stuff, this version is better than Azureus, at least for me.
constust reviewed v0.3.17 on Oct 19, 2006
Finally the crashing on exit has been fixed! My favorite torrent app. Everything else is just too bloated.
Colour reviewed v0.3.17 on Oct 19, 2006
I used this until the end of last year. It old then, and it had been old for some time before then. The author keeps promsing a new interface, but at this point I don't see any reason to go on with it. There are tons of established clients that are simply better than 'Tornado, and the author will have to play a lot of the catch-up game. Why bother?

I prefer uTorrent, but if that's not your thing, there are many other clients out there that are better than this. It's buggy, old, and inefficient. Let it die.
rapu reviewed v0.3.17 on Oct 19, 2006
let bittornado rest in piece.
M3wThr33 reviewed v0.3.16 Experimental on Oct 11, 2006
THREE years ago I praised this program as the best BitTorrent program. The LIGHT was a genious idea. Piece selection was radical! Rate limiting was smart! Heck, it even INVENTED super-seeding.

As far as I'm concerned he hasn't done anything to this program in that time. It looks exactly the same.
BitTorrentFreak reviewed v0.3.15 Experimental on Jul 3, 2006
though i have little experience in BitTornado,i can see that it is quite fast. however,i find that the interface is not very organised. i like its old school look,but the info isnt displayed very well and there are little features it seems. i am not one to judge this client due to my lack of experience in using it,but from my little knowledge,i believe that uTorrent is a better client
witchking777 reviewed v0.3.15 Experimental on Apr 19, 2006
http://www.slyck.com/news.php?story=1117 read this article on slyck.com U torrent is an average client nothing special. it might have better guis but not as fast as bit tornado 3.15. U torrent is also sold out to anti p2p people having a french company PeerFactor, which was a subsidiary of French anti-piracy group RetSpan. wow bit tornado is much more fast and much more secure than u torrent. I suggest the u torrent fanatics read slyck more ofter before they berate bit tornado. i hate to have the mpaa or their cousins dutch wannabe brein come knocking on my door because of the bit torrent client I used aka u torrent. I used u torrent personnally it sucked. bit tornado rules
hardgiant reviewed v0.3.15 Experimental on Mar 6, 2006
BitTornado is old school. It works ok but it's pretty hard to use it with uTorrent and Azureus available.

Azureus is the best client although it uses to much memory and slows my computer down. Mainly the need for Java which is horrible on windows. uTorrent is newer and lighter weight client which doesn't use java, it's probably the best windows client.

Both utorrent and AZ have added encryption in the endless game of cat and mouse with isp and networks trying to block torrent traffic.