File Details

File Size
10.7 MB
License
Commercial Demo, $49.95
Operating System
Windows 7/8/Server 2003/Vista/XP
Date Added
July 18, 2018
Total Downloads
17,067
Publisher
BitDefender LLC
Homepage
Bitdefender Internet Security
Publisher's Description
Bitdefender Internet Security 2013 builds on ranked technology to ensure secure e-banking and e-shopping, online safety for kids, privacy protection on social networks and more. Features include Bitdefender Safepay, MyBitdefender dashboard, Security Widget, Parental Control, USB Immunizer, Active Virus Control, Rescue Mode, Vulnerability Scanner, Bitdefender Autopilot, Social Network Protection, Search Advisor, Personal Data Filter, Antiphising, and Scan Dispatcher.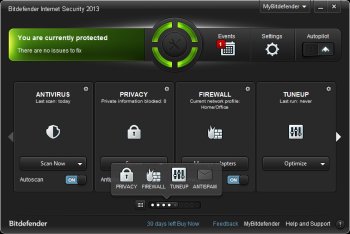 View Full-size
Latest Reviews
Lsavagejt reviewed v2015 18.12.0.958 on Jul 10, 2014
I use it because it scores high on reputable av tests, but I don't trust the wallet feature, I don't like automatic license renewal, and I will not use the included registry cleaner. Registry cleaners are notorious for bricking PCs. If some company made an av product that tests well and is not bloatware, that is what I would use.
pacman2004 reviewed v2014 17.24.0.1033 on Dec 16, 2013
Works fine on windows 8 or 8.1 with no problem. Have used Bitdefender for the past 3 years with no problems. Compared all of the other companies and always return to Bitdefender.
daa reviewed v2014 17.24.0.1033 on Dec 16, 2013
Does not install in Windows 8.1... it's crap
Output Overboard reviewed v2014 17.15.0.682 on Aug 7, 2013
Chosen as antivirus product of the year.2013 (AV Comparatives)
Always at or near the top for real-world protection.
Resource usage is much improved and now is one of the best.
My only problem is it makes my internet connection spike.

Only a stunned monkey would give this a 1.
Music4Ever reviewed v2013 16.24.0.1682 on Mar 5, 2013
Maybe the best rated AV solution but caused this multi-core PC with 8 GIG Ram to slow to a crawl & at times to lockup totally, therefore from my point of view it's useless.
psycros reviewed v2013 16.24.0.1682 on Nov 13, 2012
* Overcomplicated and somewhat cryptic UI slow and somewhat buggy. Tray icons are nearly useless..mouseover tells you what their doing but NOT what their doing it to. Gadget has no labels and mouseover hardly ever pops up descriptions. Avast! does control interfaces right, the industry should learn from them.
* Seems to detect more infections than others but most are heuristic-based. So its either finding a LOT of malware or a lot of false positives.

Tends to get great ratings from AV labs, but the UI really hobbles it.
CyberDoc999 reviewed v2012 15.0.31.1282 on Sep 25, 2011
the worst
na123451 reviewed v10.2 on Jan 21, 2010
I have used bitdefender for a few year now. I haven't has too many issue, however, over the past year I have had two major virus attacks that bitfender didn't catch. The viruses where known viruses that were out for some time now. I emailed and post messages to the bitdefender support and I never received any reply back. BitDefinder has failed at being a anti-virus tool and as a company in regards to support.
I agree with all those critcicising Bitdefender. It wouldn't be worth the 20 euro to do everything they ask me to do to help fix their horrible software. Never again. It slows stuff down, it gives you messages about updating stuff you don't want. It fails to update. Customer support is awful It is truly abysmal. it didn't used to be bad a few years ago - but it is now. Do not purchase.
ricksquires reviewed v10.2 on Jul 4, 2009
bitdefender is crap. The worst product i have ever purchased and the worst customer service ever. You have been warned, stay away!!!! Don't buy it!!!