File Details

File Size
3.1 MB
License
Shareware, $39.95
Operating System
Windows 2000/9x/Server 2003/XP
Date Added
September 25, 2007
Total Downloads
2,214
Publisher
Coding Robots
Homepage
BlogJet
Publisher's Description
BlogJet is a new way to keep your blog without ever launching a browser - just right from Windows. You can easily make posts with different colors and fonts, insert pictures and links without knowing how to code HTML, just like you edit documents in Word. It displays formatted text in the editor so it looks like the same as it will appear in browser. You can post to your current blog or create a new one at any of top web log services.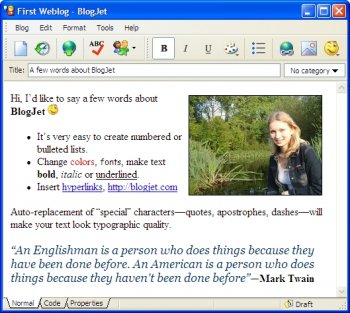 View Full-size
Latest Reviews
Diam0nd reviewed v2.0.0.10 on Oct 16, 2008
Best blogging tool. WORST support ever. When was the last time it got a new feature? When was the last time a minor update was released? I can't even remember.

This tool is great, but paying for it is like throwing money away. Since support is virtually non-existant.

Actually, the other product from the author gets zero support as well.
Wisebird reviewed v2.0.0.9 on Jul 9, 2007
Tried a couple of similar software, BlogJet is the best =)
zridling reviewed v1.6.2.60 on Jun 28, 2006
Because... it works. All I care about is results, not price first and last.
thockam reviewed v1.6.1 on Dec 14, 2005
w.bloggar is much better and it's free - always has been...

why bother paying for something that has many freeware/open source alternatives?
zridling reviewed v1.6 Beta 1 on Jun 6, 2005
BlogJet is one app that could use some usability and interface enhancements for speed and efficiency, allowing the user to control default options regarding links, photos, etc. If you blog often, then this is the tool, as the only freeware alternative right now isn't so decent.
difolders reviewed v1.2 Build 33 RC1 on Dec 15, 2004
tpaman1975: try (or at least, visit BlogJet's website), and you find out why others prefer BlogJet.
tpaman1975 reviewed v1.2 Build 33 RC1 on Dec 14, 2004
I have not installed this because my Freeware program does the same exact things. SEMAGIC for LiveJournal does pretty much everything this program does.
Michael Hyatt reviewed v1.2 Build 31 Beta on Dec 6, 2004
Without question, this is the best blogging client currently available. Intuitive and elegant, it stays out of the way and lets you focus on writing. I recommend it without reservation.
Shadonyx reviewed v1.2 Build 31 Beta on Dec 6, 2004
Looks to be a good product, but like someone else said there are free options that do the same (or more) than BlogJet.
difolders reviewed v1.1.0.20 on Jun 7, 2004
Sorry, during the last update of FileForum, the last comment has been lost. What happened? It has 5 stars ;-)

It said: "Care to name a few, Ksilebo?"

And I agree ;)