File Details

File Size
0.2 MB
License
Adware
Operating System
Windows (All)
Date Added
April 10, 2013
Total Downloads
12,935
Publisher
Simone Tasselli
Homepage
Burn4Free
Publisher's Description
Burn4Free will burn audio CDs from WAV, WMA, MP3/MP2/MP1, or OGG files.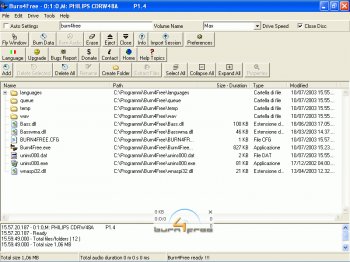 View Full-size
Latest Reviews
Ball Sacks reviewed v3.5.0.0 on Oct 3, 2007
When you run the program all it does is stick this icon in your system tray. I spent about a minute clicking, right-clicking and double-clicking this icon to no avail. Finally about a minute later (with no evidence the computer was doing anything in the meantime), this menu flashes on the screen about 30 times -- the menu I'd apparently been trying to open. And this "select your language" dialog appears. I select "ENGLISH" and hit OK. Then this ad comes up. I click the close button. Now the outline of the main window appears on top of that. A full minute later, still no signs of life. I click its button on the taskbar to minimize it and click again. Now it's an all-white window which, when I click on it, says "(not responding)". I tried this whole nonsense three times before I finally decided this program is total ***** and not worth my time.
christoofar reviewed v3.5.0.0 on Oct 1, 2007
Latest Changes:

Fully win98 - winME compatible

wow...about time.

Still adware, still verboten
mechandler34 reviewed v3.2.0.0 on Jul 5, 2007
Even if I was desperate I wouldn't install this program with it's malware. The author should give you the option to only install the program, not the adware also. I'll just use Windows Media Player for now!
oompoop reviewed v2.6.0.0 on Nov 29, 2006
Install it without any options ...
It's small, it's fast, it's simple,
and it's f r e e !
So why the hell complain?!
Hall9000 reviewed v2.6.0.0 on Sep 24, 2006
Roj " want to see a zero tolerance policy for adware and shamware on BetaNews."

Not only do I agree one hundred percent with Roj on getting rid of that kind of software but my skin crawls when I see keyloggers and other similar spying software. Isn't it time we take a stand at protecting our privacy when it comes to OUR computers from THOSE kind of software by refusing to have them on this website? An other option could be to have a Zero rating option to voice our opinion in those case. One is already one too much.

Gets down soapbox. :P
beirik reviewed v2.6.0.0 on Sep 23, 2006
Seems so outdated when it comes to interface. And who need such an app anyway?
roj reviewed v2.6.0.0 on Sep 23, 2006
I want to see a zero tolerance policy for adware and shamware on BetaNews.

Programs like this would be the first casualties (in this case, because it's adware and because that adware is MALWARE, specifically a browser "helper" object).

Get this garbage off BetaNews. If the author can't be civil enough to at the very least allow users the toption to NOT install the MALWARE he bundles with his product, he has no damned business being here.

ONE star for my personal zero tolerance approach to apps that bundle MALWARE.
y0himba reviewed v2.6.0.0 on Sep 22, 2006
Works, like crap, looks like crap, functionality is crap.

But other than that, hey it's adware!

Just another half rate programmer trying to make money off of crap.

This was a crappy message, I am sorry.
kurtthegreat reviewed v2.4.0.0 on Jul 22, 2006
Why does beta news allow this on their site?
yusufjee reviewed v2.0.0.0 on Dec 25, 2005
Usually it doesnt matter to me how software looke. Simple windows XP is ok. I am not the one for skins but seriously this software is plain UGLY. I havent used it because i have read other reviews already. I only saw the screenshot and thus the conclusion UGLY.