File Details

File Size
1.2 MB
License
Freeware
Operating System
Windows 2000/9x/Server 2003/XP
Date Added
August 28, 2008
Total Downloads
39,831
Publisher
Enfis The Paladin
Homepage
CUE Splitter
Publisher's Description
CUE Splitter is a freeware tool that splits a single big audio track, such as an album or a compilation, into relative individual audio tracks, using information contained in the associated "CUE" file. Sometimes you can find a big compressed audio file (for example MP3, APE, FLAC, OGG, WAV, WMA, etc.) equipped with a small "CUE" text file that contain informations about tracks title, artist and length. Usually these couple of files are generated by programs like EAC (Exact Audio Copy), CDRWin, BPM Studio, GoldWave or similar. With CUE Splitter you can obtain split audio track files without burning any CDR or decode/re-encode any audio data. Moreover, audio files are automatically named using a user-defined "file mask" string, its tags are filled with informations extracted from "CUE" file and, optionally, an M3U playlist file can be generated (option enabled by default). CUE Splitter is released under the terms of the GNU General Public License.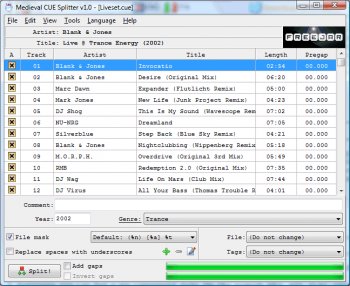 View Full-size
Latest Reviews
justfaced reviewed v1.2 on Jan 13, 2016
You can use Avdshare Video Converter to Medieval CUE Splitter Mac and which can perfectly split FLAC, MP3, APE, WAV, WMA, TAK, ALAC, DTS, etc with a cue file into separate tracks .
Stoerpser reviewed v1.2 on Aug 28, 2008
Splitting an existing cue-file is one thing but editing or creating a cue-file is a little bit more interesting (in my opinion).
A cue-file, I've found, is not only a .txt-file.
I can editing a cue that comes from EAC but if I try to write a cue without the format of the EAC-cue, there is no program that can handle it.
Is there anyone who can explain this?
I know the syntax of a cue but what fileformat has it?
TGB72 reviewed v1.0 on May 21, 2007
The final version is out and still without rebuild the lame header with all flags (miss the quality flag) and erase the lame tag in output files, the problem has been posted here, really a pity, I give it 4 because the multiple file support otherwise I would give it 3.
Diam0nd reviewed v0.6 Beta 13 on Feb 28, 2007
Very nice. Simple, flexible, free.
TGB72 reviewed v0.6 Beta 13 on Dec 19, 2006
Good splitter, would be perfect if it could recreate in the output files the info/lame tag of vbr files encoded with lame.
sQin reviewed v0.6 Beta 13 on Dec 18, 2006
a very good splitter
jamie.harding reviewed v0.6 Beta 12 on Nov 11, 2006
found this a wee while ago , trawled through loads of programes looking to split mp3s into individual files. looked at some pay ones as well. But this is by far the best out there
studio308 reviewed v0.6 Beta 11 on Sep 10, 2006
This...and nothing more!
NetSpider reviewed v0.6 Beta 7 on Apr 17, 2006
The best CUE Splitter program out there !

and its getting better .
ArabianNight reviewed v0.6 Beta 6 on Apr 15, 2006
this is a great program.

lmao @ Adrian79. n00bie go read wat the program does than come rate it bad.