File Details

File Size
3.0 MB
License
Freeware
Operating System
Windows 2000/Server 2003/Vista/XP
Date Added
November 8, 2009
Total Downloads
5,669
Publisher
Veign, LLC
Homepage
Cfont Pro
Publisher's Description
Cfont Pro was developed as a way to manage fonts; to include system, printer, and currently uninstalled fonts. Cfont Pro lets you view installed system fonts, printer fonts, and a special mode where you select a directory, CD, or network drive and preview the fonts. Preview All mode will let you view all of your installed fonts in a single view with printing capabilities. Also, be sure to check out the SlideShow mode where the application will cycle through each font at an interval determined by you.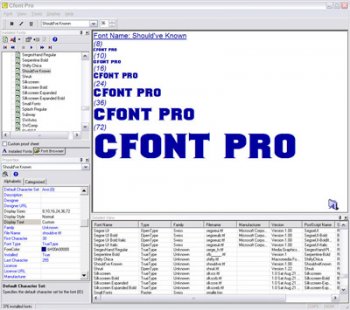 View Full-size
Latest Reviews
Tigris reviewed v3.8.0.30 on Mar 14, 2010
4.0.0.20 is out!
anomoly reviewed v3.5.0.1 on Jan 22, 2009
Thanks Veign for fixing whatever oddity was with the proper down linkage.
Best prog there is. Portable and only 2.41 mb on disk. samller than the setup exe
Veign reviewed v3.5.0.1 on Jan 21, 2009
It was removed because it never worked right, users didn't like it so we removed it so it we could rethink how to approach it.

Did you use it? Probably not.
DudeBoyz reviewed v3.5.0.1 on Jan 21, 2009
Below is the CHANGELOG.

Why would they take out the FONT PACKAGER???

That totally sucks. Major let-down. 2 Stars max. It's like Crippleware without that feature. Totally sucks.

Version 3.5.0.1 (January 18, 2009)
CHANGED: Changed it so if fonts need to be processed on exiting and the user chooses not to exit then the process form is shown
FIXED: issue where the Font Refresh function failed to work anymore
REMOVED: the Font Packager
Veign reviewed v3.5.0.1 on Jan 20, 2009
Not sure if it runs on 64Bit since I have no means of testing it.

This is a new version with bug fixes and changes in the application. The download and installer have been updated. Not sure why FileForum is not pulling the new version which is on my website and was pointed to when I updated the application.
wodez reviewed v3.5.0.1 on Jan 20, 2009
Good program but does it run in 64bit XP/Vista? I could not get it to run, but since my installation is nLited I can't be sure
anomoly reviewed v3.5.0.1 on Jan 20, 2009
I see absolutely no difference when this latest version still says 31018. Even the installer says 3.1. As well 3501has been out since at LEAST nov '07.
Fileforum spams itself. fascinating
Zenphic reviewed v3.1.0.18 on Jan 8, 2008
Works very well. I love how I can now explore my font collection. I usually download many fonts, but I rarely install them all at the same time because I read that fonts are loaded at Windows startup. Hence, having more fonts installed will make Windows startup slower. Now, with this software, I can quickly check which font I want to install without having to double click the font file like in the past.
anomoly reviewed v3.1.0.0 on Dec 19, 2007
Seems to work fine as a standalone. I used Revo Uninstaller to uninstall & it can remove ALL references incl those in registry. I did, however, copy these files to my portable location:
ccrpftv6.ocx
MSHFLXGD.OCX
vbalIcoM6.dll
vbalIml6.ocx
XDockFloat.dll
bufftbone reviewed v2.6.0.0 on Jul 22, 2007
this is some good stuff here. awesome!