Other Versions
Publisher's Description
Chandler is intended to be a personal information manager for email, calendars, contacts, tasks, and general information management, as well as a platform for developing information management applications.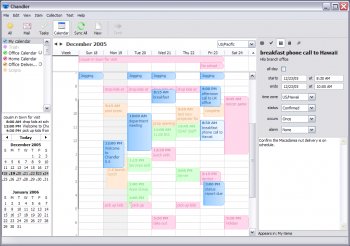 View Full-size
Latest Reviews
Flebbo reviewed v1.0.3 on Jun 16, 2009
Starts very sloooooow.....
Stingray57 reviewed v0.7.3 on Dec 10, 2007
I DL this when it was much newer than this; not nearly as nice as it is now. It's gotten much better since then. The inbox concept is different and I think they have better direction now.

I found this when I was looking to switch off of Outlook. My main issue is that this has been very slow in development. Updates don't come regular enough, but I encourage them to keep going, it looks great!
brusco reviewed v0.7.3 on Dec 10, 2007
This seems ok to me. Don't know what all the poisonous personal attacks on the developers are for.
infotechs reviewed v0.7.3 on Dec 8, 2007
This is an OK calendar program, but the glaring deficiency for this PIM is the absence of contact management. Look to Time & Chaos for a real PIM.
Raven Sati reviewed v0.7.3 on Dec 8, 2007
still crap - still out-dated
oomingmak reviewed v0.7.3 on Dec 8, 2007
The world does not end at the shores of the United States.

The authors of this program would do well to bear this in mind.
Stephen Bungert reviewed v0.7.2 on Nov 20, 2007
Like Wikipedia, this programme is too Americanised to be useful. I also fail to see what is so revolutionary about it.
Raven Sati reviewed v0.7.2 on Nov 19, 2007
What a bunch of baloney ! The idea that this is revolutionary is a joke. Try it and see. This thing is as outdated as Mitch Kapoor (who funded it out of his pocket and who "leads" the "team"). Look at the developers - a bunch of losers headed by an incompetent egoist. No wonder it is really nothing after all the hype.
spiked reviewed v0.7.1 on Oct 11, 2007
A nice beginning and usable for people who don't already have something better, but it's so ridiculous to suggest that this competes with Microsoft Outlook and Exchange that the project FAQ itself states: "Chandler is not a full-fledged email client. Do not expect to be able to replace your current email application..."
darthbeads reviewed v0.7.1 on Oct 11, 2007
@Arnvid:

Did you, I dunno, go to the website and do any actual RESEARCH about the product? You clearly didn't, otherwise you would have mentioned that this is shaping up to be a fully opensource replacement to Outlook, Exchange Servers, and many of the other more advanced features of Outlook that most other mail clients, particularly the free ones (I'm looking at you, Thunderbird) are woefully lacking in.

Thus, your uninformed review is pointless and moot.