File Details

File Size
2.2 MB
License
Freeware
Operating System
Windows (All)
Date Added
May 11, 2022
Total Downloads
541,505
Publisher
Chris P.C. srl
Homepage
ChrisTV
Other Versions
Publisher's Description
ChrisTV PVR (Personal Video Recorder) brings TV on your PC with high quality image and sound. The software is designed to control analog TV Cards, Graphic Cards with Video Input (VIVO),Webcams, TV Cards with MPEG hardware encoder: Hauppauge PVR series, Leadtek PVR2000, ATI Ehome wonder and works with many video capture devices. Features include: Multituner support, TimeShifting, support for Windows Vista, AVI and MPEG2 recording, advanced recording settings, advanced scheduler, recording profiles, radio FM support, channel autoscan with fine tuning, support for DScaler deinterlace filter and FFDShow filter. With the trial edition, recordings from TitanTV listings limit themselves to 45 minutes.
ChrisTV Lite is a quality entry-level product of the ChrisTV suite. It is the perfect choice for enjoying live TV programs like concerts, football/soccer/tennis games or live shows on your PC through an analog TV card with WDM driver suport.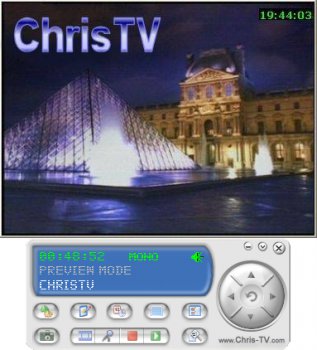 View Full-size
Latest Reviews
CyberDoc999 reviewed v6.20 on May 15, 2015
spyware and adware
CyberDoc999 reviewed v11.11 on Mar 6, 2015
Spyware and Adware
Zootopia3001 reviewed v8.50 on Feb 27, 2013
@jryan1985
"Just try the JTV channels and the movies, it's fun! ;)"

You can watch JTV without this crap.
Try http://www.justin.tv/directory/featured
...it's fun! ;)
JethroB reviewed v8.50 on Feb 27, 2013
Seems everything is only available in the premium edition or is 'presently unavailable'. A waste of time IMHO.
jryan1985 reviewed v8.30 on Feb 23, 2013
At installation just decline the additional software from the bundle and you can get only the christvonline product. For me it works, I can watch my favourite premium channels and the movies I want...They should updated their channels more frequently but in rest I think is a great software. Just try the JTV channels and the movies, it's fun! ;)

happy watching!
zeeshan1153 reviewed v5.64 on May 8, 2012
Please be assured that comScore, the parent company of RelevantKnowledge, has invested substantial resources in making our data collection and privacy practices the best they can possibly be. Our company adheres to industry-accepted best practices regarding the collection and secure storage of the data collected by software such as RelevantKnowledge.
comScore is recognized as a leader in the privacy space by organizations such as the OnlineTrust Alliance, where our co-founder Gian Fulgoni was a panelist earlier this year, along with representatives from the FTC and TRUSTe. (link to http://blog.comscore.com..._privacy_town_hall.html).
If you have further questions about RelevantKnowledge, please visit our website: http://www.relevantknowledge.com/faq.aspx
Thank you,
RelevantKnowledge Customer Support Team
nilst2006 reviewed v6.00 on May 6, 2011
Many years ago i bought this. Typed wrong serial and became attacked by their server with a lot of crap. Since that day i don't touch this cr*p !
madmike reviewed v5.60 on Jan 24, 2011
Installed the free version, no Chanel sidebar, removed it and downloaded the premium trial version, when downloaded I installed it to find despite saying no to adware/spyware it installed it covertly in the background.

Would I buy it, NEVER EVER.. Pants!
CyberDoc999 reviewed v5.60 on Jan 21, 2011
this is the worst thing ever made... tons of ads and spyware
Hallway reviewed v5.60 on Jan 21, 2011
Great tool.

Alallami Abdelaziz Mohamed from Belgium born in Yemen, i don't work, I **** all day long.