File Details

File Size
4.8 MB
License
Freeware
Operating System
Windows 7/8/10/Vista/XP
Date Added
May 11, 2020
Total Downloads
18,727
Publisher
Comodo Group, Inc.
Homepage
Comodo Antivirus
Publisher's Description
Comodo AntiVirus is a comprehensive, freeware virus scanning, detection and removal application for Windows with an exceptionally easy-to-follow user interface. It supports real-time monitoring, user-defined scanning tasks, on-demand scanning, email scanning with certification (inbound and outbound), suspect file submission, scheduling and automated updates. Although a very new application, it includes an extensive definition database which is updated very frequently (typically updated daily).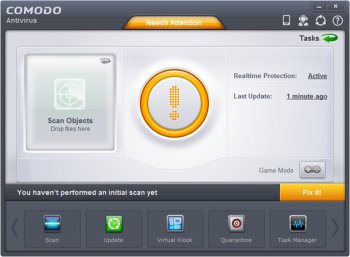 View Full-size
Latest Reviews
Matthewsadmin reviewed v8.2.0.4674 on Feb 11, 2016
I installed Comodo Antivirus on my computers and they started working, no more lags when updating or scanning. Even on my old AMD Sempron laptop:)

Download Free Antivirus here: https://antivirus.comodo...load-free-antivirus.php
pcsafe reviewed v8.1.0.4426 on Jul 8, 2015
For Mobile user You can download a mobile antivirus for free https://m.comodo.com/ ,hope you enjoy the comodo products
Matthewsadmin reviewed v8.1.0.4426 on May 13, 2015
I have used so many applications, but comodo is the best. There is no other match to this product. I strongly recommend Comodo Antivirus

official domain resource: https://antivirus.comodo.com
emilylauren2490 reviewed v8.1.0.4426 on May 12, 2015
Best Antivirus for Windows 8 I have ever used. It provided me with 360 degree real time protection when my PC was infected by a malicious trojan called Generic PWS.y!6776EDE137A7. After installing comodo Antivirus it removed this malicious trojan.
https://antivirus.comodo...antivirus-for-windows-8/
kgaba reviewed v8.0.0.4337 on Nov 26, 2014
As per my personal opinion

avast! Free Antivirus 2015
360 Internet Security
Both are good Security Software and its available on SoftMozer. SoftMozer is a free software download site offering free software for windows, mobile, mac, linux & IOS. Experience the safest and fastest download free games and download free antivirus for multiple platforms.
stevvie reviewed v8.0.0.4337 on Nov 19, 2014
why oh why all the bloat, no wonder its nearly 220meg for a virus checker.
some guy reviewed v8.0.0.4337 on Nov 18, 2014
to bloated Bitdefender Antivirus Free Edition my top pick http://www.bitdefender.com/solutions/free.html
mikebray reviewed v6.2 on Mar 12, 2014
meh ok
BlackDragon64 reviewed v6.2 on Jul 18, 2013
@some guy:
WHY? Do you call the full suite by Comodo "bloat"?
I installed it and am using the AV, FW, and HIPS, and the TOTAL memory used SYETM WIDE is MAYBE 180MB thatincludes the OS as well as all other items in memory.
So, I guess you have a rather perverted definition of bloat.

REVIEW (of ful suite BTW):
Excellent package, very good protection and NO BLOAT at all on my machine.
BTW, that is a Dell Dimension 2350 with a 2.2GHz P$, 1 Gb RAM, and a 128Mb Vid Card. Also WinXP SP3.
some guy reviewed v6.2 on Jun 19, 2013
reddy.shyam
all 3 links you provide point to the same 142 meg byte exe file that I will take a guess it's the Comodo full blown bloat suit