File Details

File Size
5.3 MB
License
Freeware
Operating System
Windows 7/8/10/Vista/XP
Date Added
June 7, 2018
Total Downloads
90,950
Publisher
Comodo Group, Inc.
Homepage
Comodo Firewall Pro
Publisher's Description
Comodo Firewall Pro will secure your system against internal attacks such as Trojan viruses, malicious software, and external attacks by hackers. With a user-friendly single click interface you can allow or block access to the Internet offering complete immunity to attacks and total protection of your personal information. Real time traffic monitoring enables you to react instantly to threats and identify bandwidth bottlenecks. Silent Security Technology means no needless alerts with out-of-the-box protection against hackers, Trojans and other unknown threats.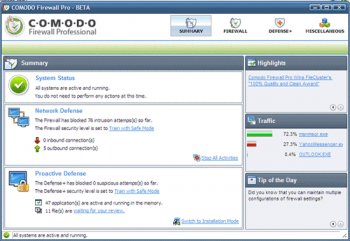 View Full-size
Latest Reviews
gcaleval reviewed v3.0.25.378 on Jul 27, 2011
DO NOT DOWNLOAD THE BETANEWS VERSION. This vesion is wildly out of date. As of writing the current version is 5.5 and is available either directly from Comodo or on CNET,

The new versions have addressed almost all issues reflected in reviews on BetaNews.
CyberDoc999 reviewed v3.0.25.378 on May 5, 2011
It is OK for 32 bit......BUT Comodo has nothing but bugs and slowness in 64 bit!!
I will never use it for 64 bit again!!!!!
anomoly reviewed v3.0.25.378 on Jul 26, 2009
Review of 3.10.102363.531
Just uninstalled outpost free which scores just below this on matousec.
Oupost was using 40% cpu ++ on torrents and for some reason it was blocking IE if I disabled dns service.
This does have ad options (toolbar, homepage crap) but they are options. I installed in basic fw mode with nothing else. Removed all the trusted vendors (couldn't remove the 2 comodo entries!) and set explorer.exe (which I don't run cause I use sharpe shell) to no dns access. So far no nags at all and cpu is nil with torrents.
See how it fares. Online armor pay version is still at the top of the chart.
Adobe also tries to install crap. should we blacklist them too ?. Comparing a tested trusted fw to an adware site like softpedia is a joke. I have rated this -5 before as the gui was a nightmare. time will tell.
THE REAL TAO reviewed v3.0.25.378 on Jul 12, 2009
COMODO ARE NOT WHAT THEY SAY,I HAVE PERFORMED TESTS ON SEVERAL MACHINES...ALL HAVE BEEN DIVERSLY AFFECTED BY WHATEVER COMODO PRODUCT WAS INSTALLED...I BELEIVE COMODO IS A FRONT FOR POSSIBLY ANTI TERRORIST AGENCY OR AN ANTI PIRACY AGENCY (SUCH AS MPAA) WHATEVER THEY ARE THEY ARE NOT A SECURITY FIRM,NONE OF THIER SOFTWARE WORKS PROPERLY..SO WHAT IS THIER REAL PURPOSE...MIGHT SOUND RADICAL BUT BELEIVE ME IM RIGHT...DONT INSTALL ANYTHING FROM THESE DECEITFULL LIARS...TAO
Blaxima reviewed v3.0.25.378 on Jun 11, 2009
Comodo is alright but I didn't realize how much of a strangle hold it actually put on my bandwith until I removed it in favor of a router.

It doesn't play so nice with some things either and is resource heavy. Software firewalls are overrated imo and this one in it's current state might have good defensive abilities but it impacts my system too much to recommend it
Chocobito reviewed v3.0.25.378 on May 17, 2009
Its really a shame that Comodo has become, now its a bloatware with adware instalation, some software portal like Softpedia delete Comodo from his list because Comodo refuse to throw away his adware instalation, really really shame.
BigOrange029 reviewed v3.0.25.378 on May 11, 2009
A solid firewall if you are looking for something kinda basic. However, the consistent popups are annoying and often times for safe programs. If you don't mind the constant popups for permission, it's solid. It can also be a little heavy on the RAM, but with most computers having at least 512 MB of RAM at the very least(for older computers) it is not so taxing that it will bring your system to it's knees. The only other complaint I have is that the Firewall has now been bundled with their anti-virus software to form their "Internet Security" package meaning that updates to the firewall only are likely to end soon. All that being said, you can certainly do worse than this one.
us3r reviewed v3.0.25.378 on May 7, 2009
This product has been renamed to Comodo Internet Security. It's still freeware. Now includes Firewall, Antivirus, HIPS (Defense+), Buffer overflow protection.

http://fileforum.betanew...rity-32bit/1224699488/1
therisin reviewed v3.0.25.378 on Oct 12, 2008
Comodo Firewall has really turned to horse #*$% in this latest release (3.0). The UI has become a cumbersome nightmare (for example, unable to sort program rulesets by program. You can only sort by path, and even that doesnt work right. There's just too many things to list. The UI is a total mess compared to the previous version which I actually liked).

This firewall is pretty overhyped. It gets high ratings in tests, but I wonder how much real-world protection people really get from this.

It gives a false sense of security - this firewall brings up a warning for just about every frivolous event that occurs on your computer. This in itself can become pretty tedious and annoying in a very short time. I'll explain more on why this seemingly heightened security is bad in a sec.

The WORST part about this firewall - is that some programs inexplicably get free unrestricted access to the internet without so much as a confirmation. Oh sure, a big program like Mozilla Thunderbird brings up the usual "connect to the internet" confirmations, but various programs I DL'd off of Bit Torrent, the cultivator of computer plagues, gets free access without so much as a blip on the radar. After having 1 million confirmation windows shoved in my face every minute by this firewall, I find this internet favoritism to be quite a irritating.

The firewall may be ok for preventing attacks, however, I cannot recommend this for someone wanting to protect from identity theft (keyloggers, etc.) or other unauthorized broadcasting by trojans which may have slipped past your Anti-virus.

That it would just allow some programs (quite a few seem to get this privelage with comodo) free, unrestricted access to the internet, without any confirmation whatsoever, is just completely asinine for a program which tries to "protect" you from malware by force feeding you a million confirmation pop-ups a minute over the most frivolous things.

Ive been using Comodo for a few years now, and I've had high respect for them up until release 3.0.

Now it's just gone to crap. It can get the job done, but it needs constant, and I mean CONSTANT tinkering and TLC in order to get what you want out of it due to its poor design. Otherwise it's simply a false sense of security.
Cris3 reviewed v3.0.25.378 on Sep 4, 2008
I just put this app in today and it is easy to configure and remembers what you allow without repeatedly asking for approval.

Comodo Firewall Pro is recommended in the latest issue of PC WORLD magazine and I can see why they like it too.