File Details

File Size
4.3 MB
License
Freeware
Operating System
Windows (All)
Date Added
July 19, 2013
Total Downloads
4,394
Publisher
WindSolutions LLC.
Homepage
CopyTrans Manager
Publisher's Description
CopyTrans Manager is a fast, light and free iTunes alternative. Organize and manage your iPod, iPhone/iPod Touch music without iTunes with this perfect free iPod alternative. An iPod and iPhone manager that allows you to quickly and easily add or delete iPod songs and iPod videos. Improved user experience thanks to new interface and built-in iPod music player.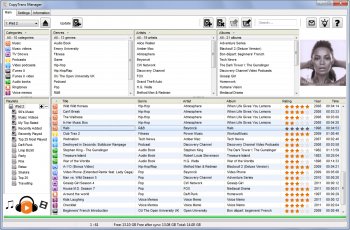 View Full-size
Latest Reviews
Betachecker reviewed v0.992 on May 1, 2019
Good free software
SM_brad reviewed v0.992 on Feb 6, 2014
Nimble tool compared to the Goliath iTunes.

An ex-Android user coming to iOS, quickly realizes that Apple unneededly chains their customers with iTunes.

CopyTrans Manager breaks the restrictions as adding songs from my computer to my iPad is easy - without requiring iTunes sync.

I have the manager program loaded on a USB flash. This allows me to add music to my iPad on any computer without the risk of iTunes sync. Awesome and very practical.
dagl reviewed v0.992 on Feb 2, 2014
i installed the software but never got to try it as it wouldn't launch without me first connecting to the internet. i was looking for a local client to manage my devices, not an internet app.
VibL reviewed v0.992 on Jul 30, 2013
The only true iTunes alternative I know of. Works great on Windows 7, and my iPhone 5 and iPod nano 7g. Best of all - its free.

I have been using this program for more than 2 years now and it hasn't failed to please me with its ease of use, practically no space taken on my computer and versatility as I often load it on a USB flash and use copytrans manager on my friends' computers without having to install.
krgood reviewed v0.992 on Jul 20, 2013
I downloaded this app, does not see my Iphone, Is not Free but crippleware. You get 100 transactions then you must buy or delete...I deleted it straight away,,I have no tolerance for deceptive advertising...Shame on you BetaNews for allowing this type of dishonest offerings...
henTyr reviewed v0.977 on May 27, 2012
Does what it says. Helped me move songs from my external hard drive to my iPod and organize them into playlists without the need for iTunes. The tool is completely free.
holy1661 reviewed v0.971 on Feb 9, 2012
While it is true that CopyTrans Manager (Free) is indeed free, and is okay.

Perhaps the download link here originally was pointed at CopyTrans which is a trial.

The features I was looking for, specifically to export tracks to my computer, are not in CopyTrans Manager (Free).

I will assume it was my misunderstanding and there was no false advertising on the developers part. Not completely sure I was wrong before, but it could have happened.

I would recommend this nice app, and very much recommend buying the more robust CopyTrans.
VelvetElvis reviewed v0.970 on Jan 14, 2012
There is indeed a free version, just make sure you grab the right one.
Initial impressions are good. Used it with my Nano, and it's light years ahead of the nightmare that is iTunes if all you want to do is manage your music.
FWIW, I turned off "Send errors to CopyTrans Team" and "Send anonymous usage statistics to CopyTrans Team".
juanao reviewed v0.967 on Dec 21, 2011
i have enjoyed the simplicity of this small and free itunes alternative which does not even need an installation in order to add/remove and edit my iPhone songs, playlists and applications.

I think it beats itunes when it comes to speed and effective non-obtrusive managing of my iPhone. copytrans manager is indeed a freeware.
holy1661 reviewed v0.953 on Oct 18, 2011
Ok.

I see it is the description posted here at fileforum that is wrong.

"CopyTrans Manager is a fast, light and free iTunes alternative"

It is not free. It is FREE to download. On Google it is listed as Free Trial, or Free to download. Also unfortunately on copytrans.net it is described as "Faster, Lighter, Still Free"

I cannot find a function of this utility that is actually free. Even the "free" functions are hampered by a nag screen immediately before the app quits.

Besides the false advertising, it is a great app if you are going to buy it. Probably if there was not the implied freeness, i would rate it a five.