File Details

File Size
14.1 MB
License
Shareware, $19.95
Operating System
Windows 2000/Server 2003/Vista/XP
Date Added
November 15, 2010
Total Downloads
10,593
Publisher
Sunbelt Software
Homepage
CounterSpy
Publisher's Description
Get rid of any software that might be tracking and reporting your private information to a third party with CounterSpy. The only top-rated antispyware free trial that both scans and removes spyware, adware, keyloggers, trojans and other malware.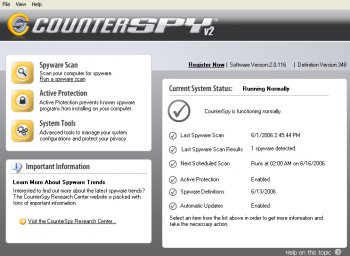 View Full-size
Latest Reviews
some guy reviewed v4.0.3248 on Mar 3, 2010
nice sale pitch guy below, you must be a developer
Papa Lazarou reviewed v3.1.2250 on Aug 14, 2008
Absolutely 100% improvement over build 2.5.1043,with a lot better & easier g.u.i and the biggest problem that has been Sunbelts bugbear - the updates - has been addressed with outstanding results , two minutes to download and merge the definitions from zero to the current [which also checks every two hours now by default] Along with integration into Windows Security Center a lot quicker scanning times , and of course excellent removal of malware/trojans etc. including boot time scan to kill rootkits for a mere $20 dollars [after a 15 day free fully functional trial if you so desire] this has got to be the best value security software on the market , period. Try it today - you won't be disappointed.
I hate people who rave about a product because it caught ONE malware item, or who slam a product because it missed ONE malware item. There is no product that catches everything.

As far as CounterSpy goes, I found it to be about as easy on my system as Crysis.
Tao2005 reviewed v3.1.2250 on Aug 13, 2008
You alls can rate it a 5. I'll rate it a 4. Vipre blows this out of the water. However, with Vipre, you would need to uninstall your AV. This is only a AntiSpy program (AS).

So if you have no Anti-Virus software, or Anti-Spyware program on your computer, then I suggest Vipre. The protection on their software is set at a high-level, though I would still say it's a joke.

Before Vipre, I used Avast!, also a highly aclaimed Anti-Virus program, along with Counterspy. CounterSpy missed a back door Trojan, that Avast! took care of. That is why I am very sceptal about their software. But alas, I went vipre.

If you don't heed my advice, you could be spending over $40 dollars. Still I am impressed with Vipre.

Enjoy...
Peace...
Jammerdelray reviewed v3.1.2250 on Aug 13, 2008
Great Product.

Pros: Very high detection rates, frequent updates.

Cons: When getting updates it can slow your computer and require restarts.
robmanic44 reviewed v2.5.1043 on Jun 30, 2008
I own this product and it came off my system, because it slowed things to a crawl. I can do without the constant interruptions.
Tao2005 reviewed v2.5.1043 on Apr 10, 2008
Wow, I'm a webroot supporter, I love Spysweeper, and to hear such dis... from others is different. I guess what they say is true, to a point. I use Spysweeper, and funny it doesn't slow my system down. But then again I don't have all the filters turned on. I only have Net and mail turned on, which makes spysweeper work more quickly with my computer. Though I do have to admit, the scan process is slow, and the updater is horrible. I like what I am hearing about this product. Suppose I'll try it. Sounds trust worthy enough for word of mouth recommendation.
McAleck reviewed v2.5.1043 on Mar 10, 2008
74 megs? are you out of your minds?
Clint7 reviewed v2.5.1043 on Feb 28, 2008
CounterSpy is the best on the market. It has caught more culprits than any of the others that I have used. Has lots of options such as System Tools which is a Great Utility Tool. It is light on resources. Does not slow your machine down like SpySweeper and Spyware Doctor. I just renewed my subscription for 3 more years. Definitely #1. If you doubt my word go to http://download.com/counterspy and see for yourself.
davygiven reviewed v2.5.1027 Beta on May 15, 2007
Now runs on x64 Vista.