File Details

File Size
0.8 MB
License
Freeware
Operating System
Windows 7/8/10
Date Added
July 1, 2020
Total Downloads
476,495
Publisher
Disc Soft Ltd.
Homepage
DAEMON Tools
Other Versions
Publisher's Description
DAEMON Tools converts your computer CD/DVD discs into "virtual discs" or so called "disc image" files, which run directly on your hard drive. This protects original CD/DVD discs from loss, theft, and damage, plus a virtual disc has much better access rates than a physical CD/DVD disc in a physical CD/DVD ROM drive because the reading speed of a virtual CD/DVD-ROM is dozen times faster compared to normal CD/DVD drive.
Smart, free and popular product which is ideal for mounting CD/DVD/HDD drives and making common disc images.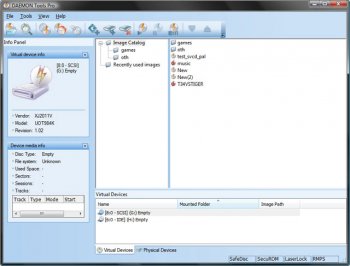 View Full-size
Latest Reviews
nilst2006 reviewed v10.4.0 on Jun 5, 2016
Junkware....
psycros reviewed v4.48.1 on Nov 2, 2013
Still probably the best tool of its kind. Unfortunately it contains non-optional spyware which some A/Vs identify as containing a trojan (it installs secondary backdoor programs). Sadly, the authors of Daemon Tools have become increasingly shady over the past couple years. Considering there are now viable free alternatives I'm forced to suggest staying away from Daemon Tools.
FatBastard reviewed v4.45.3 on Feb 15, 2012
Great tool !
What's new:

SPTD 1.80 (support of Windows 8);
Redesigned installation wizard;
Catalan language added to the list of supported languages.

Bugs fixed:

Sidebar Gadget automount issue;
Minor bugs.
noobtard reviewed v4.45.2 on Jan 20, 2012
This once was king. But the king has fallen.

Author needs to get a clue.

Virtual clone drive is free and has no bullsh1t malware included.
ballyhairs reviewed v4.40.2.0131 on Jan 21, 2011
-Too much junk included, even if its optional, its still junk.
-Not portable.

UltraIso does that job and much more.

2 Star because it works and its free.
PaulWilliams reviewed v4.40.2.0131 on Jan 21, 2011
One of the best program for mounting images. Its always worked well for me when mounting movie images. I did have a mystery phantom drive appearing that couldn't be un-installed until I restarted my computer. The program hasn't happened again, but it could be a problem with the virtual driver. Anyway Thanks.
Artem S. Tashkinov reviewed v4.40.1.0127 on Jan 8, 2011
-2 for all the bundled junk software.

+1 for making SPTD rootkit optional.
sweathog reviewed v4.40.1.0127 on Jan 5, 2011
Years ago I used to use this software. But PowerISO is smaller, installs more reliably, and is better in just about every way except eye candy.
-1 for constantly phoning home.
-1 for rootkit like SPTD drivers.

Otherwise a solid piece of software.