File Details

File Size
1.5 MB
License
Open Source
Operating System
Windows 2000/9x/Server 2003/XP
Date Added
June 26, 2019
Total Downloads
16,037
Publisher
DOSBox
Homepage
DOSBox
Other Versions
Publisher's Description
DOSBox is a DOS-emulator that uses the SDL-library which makes it very easy to port to different platforms. It has already been ported to many different platforms, such as Windows, BeOS, Linux, MacOS X. It also emulates CPU:286/386 realmode/protected mode, Directory FileSystem/XMS/EMS, Tandy/Hercules/CGA/EGA/VGA/VESA graphics, a SoundBlaster/Gravis Ultra Sound card for excellent sound compatibility with older games.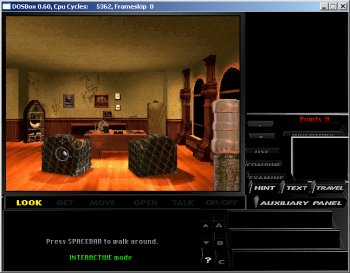 View Full-size
Latest Reviews
Slipped it in reviewed v0.74 on May 12, 2010
This is the only way to run Scorched Earth under 32-bit Windows Vista and 7. Apparently after Windows XP Microsoft removed all support for 16-bit DOS apps.
FatBastard reviewed v0.74 on May 12, 2010
If you ever used DOS back in the old days it's impossible not to love DOSBox :)
Reverb reviewed v0.72 on Aug 28, 2007
Excellent work and a must have for legacy DOS based games and applications. This is not the same as VMWare or similar virtual machines - this is a self-contained emulator. VMWare, Parallels etc require you to install DOS, all sound, CD-ROM, VESA VBE drivers yourself. This is a stand-alone utility that has a built-in DOS command interpreter, ADLIB/SB/SBPRO/SB16/GUS et al sound drivers and VESA video. It does not require virtual hard drives you simply mount a directory of your choice and assign a drive letter.

For certain games this works better than virtualization. I like the fact that you can adjust the CPU clock cycles for older games that run too fast on today's machines. (Wing Commander is a perfect example).

If you were considering setting up a VMWare DOS environment but don't want to go through all the fun of tweaking CONFIG.SYS and AUTOEXEC.BAT to get maximum base memory try this instead. Highly recommended. Also check the forums, lots of helpful advice on getting your old apps to run.
improvelence reviewed v0.72 on Aug 27, 2007
wetink Just because you are an idiot does not mean you have to give a great program a lower rating.
oompoop reviewed v0.71 on Aug 20, 2007
Maybe useful ...
But why not taking DRDOS/NovellDOS and have a multiboot system?!
... ran fine with Win98, but don't know how it works on a NTFS-File-System.
christ999 reviewed v0.71 on Jul 31, 2007
That is what I call a useful PROGRAM

a big RESPECT to the developers
A masterpiece if you ask me.
Ok, emulation is not 100% correct, it might be only 95% ish. So I give it 95% of 5 stars, rounded to the closest integer.
mattnotley reviewed v0.63 on Nov 21, 2004
Finally I can play all my old DOS games which I had stored on CD's for years. So far all my games seem to work fine, no problems.
wetink reviewed v0.63 on Nov 19, 2004
Couldn't download it. The link took me to a list of mirror sites. Clicking on any of them just took me to that site, but did not give me any option to download the program.
beta-guy reviewed v0.62 on Oct 31, 2004
it's a good program, but I'm having a problem with the mouse, I have a game that requires a mouse diver to be loaded, the built in one sucks, and I can't load a 3rd party mouse driver because there is already a mouse driver loaded... however it a good reminder of Dos and an excellent compatibility layer ... once I get this mouse driver issue resolved it'll be great...