File Details

File Size
4.1 MB
License
Shareware
Operating System
Windows 2000/9x/Server 2003/XP
Date Added
February 19, 2004
Total Downloads
26,985
Publisher
DVD Master Backup
Homepage
DVD Master Backup
Publisher's Description
DVD Master Backup has been designed to backup your DVD movies by transforming the DVD format to the DIVX format and to fit it on a standard 700MB compact disc. All processes are automated, you only need to set a few parameters and click on the "Go" button to create your DIVX movie.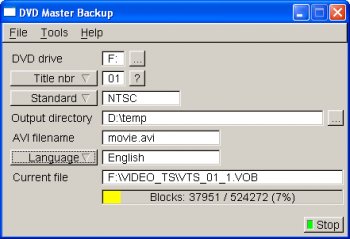 View Full-size
Latest Reviews
srhardy reviewed v0.3.4 on Oct 17, 2003
no new posts about the current version, but from my experience this program has a long way to go. its based on an open format so where is the free version/code? anyway it wont read vob files on your hd, why l dont know and its encoding sucks dr.divx is now the leader in this... but we all live in hope of a decent alternative but this isnt it
Nunja reviewed v0.3.4 on Oct 17, 2003
why does this person bother doing ANYTHING to this program if he's not going to put in multi-pass support. It does no good to convert to divx if you can't get the quality of a multi-pass encode.
sirhardi reviewed v0.3.1 on Oct 12, 2003
License:
This Program is a Shareware under the GPL license.
You can buy it here
errderr reviewed v0.2.8 on Jul 11, 2003
Which player are you using to watch it? You may want to try using The Player from divx.com. I cannot get these to play in Windows Media Player. I believe it actually yelled at me regarding the audio. If I open it up in The Player, it works just fine.
Alex T. reviewed v0.2.8 on Jul 11, 2003
Yes, XP users use Windows Messenger, not MSN Messenger.
Kompressor reviewed v0.2.8 on Jul 11, 2003
But aren't XP users supposed to use Windows Messenger?
Lynchburg reviewed v0.2.8 on Jul 11, 2003
I've tried all but .28. I never get any audio. How are you guys getting audio? When you run the avi, is the sound embedded in it and play along with the video? Cage0022@Nesbeonline.com if anyone has any advice.
betasun reviewed v0.2.8 on Jul 11, 2003
...very nice .
Lynchburg reviewed v0.2.7 on Jul 8, 2003
I just tried 0.27. It created a seperate sound file this time. But, the video file still didn't have any sound. Is there a way to merge the two?
Lynchburg reviewed v0.2.5 on Jun 28, 2003
I've tried this and many previous versions. I tried this one a freshly formatted W2k PC. Same results - Video but no sound track. Anyone else in the same situation and/or figured out how to get sound?