File Details

File Size
84.1 MB
License
Shareware, $50.00
Operating System
Windows 7/8/10
Date Added
October 23, 2017
Total Downloads
282,287
Publisher
labDV
Homepage
DVDx
Publisher's Description
DVDx allows you to convert DVD video to VCD 2.0 or SCVD 1.0 in one step (including multiplexing and splitting). It produces good quality movies in MPEG 1 or MPEG 2 format and you don't need to have 5GB or more free space on your hard disk. DVDx has been designed especially for novice users, and has a simple and intuitive interface. Once the image is created, you only need Nero to write your VCD or SVDC.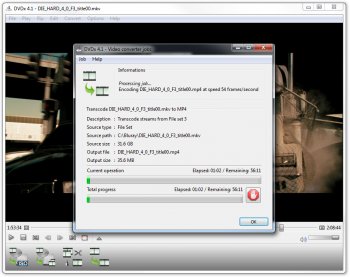 View Full-size
Latest Reviews
AlanS2001 reviewed v2.10 on Oct 30, 2007
anomoly, OpenSource doesn't mean it's magically produces itself for free. The creater is perfectly entitled to seek subscriptions. Grow up.
anomoly reviewed v2.10 on Aug 7, 2007
open source and the first thing I see is a complaint for bandwith and a pitch for a subscription? you're joking right?
AlanS2001 reviewed v2.5.1 on May 8, 2006
Best encoder there is in my opinion. Prefer DVD Decrypter for decoding though.
Das mod reviewed v2.4 on Mar 27, 2006
been using this app since 2.2 ....
does great for me ...
Blackhole8746 reviewed v2.3 on Jul 3, 2005
The poster below me does not realize that the codec chosen and the quality settings are the only factors that determine the size of the ripped files... Wether it was with DVDx or any other ripping program... The last thing we need here on FileForum is beginners like you posting crap they think make them look cool
chibi_kagome reviewed v2.2 on Jun 27, 2004
i wouldnt suggest this product if u r planning to rip / encode an entire dvd unless u have a gigantic hard drive and dont mind waiting a reallllllly long time for it to finish. i personally loved the product but only for the fact that i was only using it to encode small clips. biggest problem with it is that u cant put in markers to only encode a small portion, u HAVE to do the whole dvd. i used dvd shrink to rip the vobs of the sections of the dvds i wanted then just loaded them into dvdx and encoded from there. its a nice program since its free, but if ur looking for something to backup a few to a lot of dvds i would suggest BUYING a nicer program to do it.
cyberex reviewed v2.2 on Oct 19, 2003
Haven't actually had the pleasure of using DVDx yet, as soon as I rn it to rip a dvd my PC does a hard reset!! Baffling. Has any one experienced this and if so where do i look first.
2100+ Athlon AMD , 1024 Mb RAM, 380Gb , NVidia GeForce 4 Ti 4200 with AGP8X
Jeffsoft reviewed v2.2 on Oct 4, 2003
the easiest !!

DVDx 2.3 here
http://sourceforge.net/p...iles.php?group_id=72208
marillion reviewed v2.2 on May 5, 2003
Just downloaded DVDX 2.2 and not been able to try it yet Iam working with DVD Copy Plus Smart rippeer and when it comes time to encode I can't go any further no encode button can some one please tell me where to find this thanks that would be a great help I'm new at this so thanks for understanding and I to Can't really review this till I get It going
Cheers Take Care
Marillion
ripmeister reviewed v2.2 on Apr 7, 2003
I've been using DVDx 2.0 (and version 1.7 before that)
and it works very well. However, in certain movies (but
not in all movies) i get pops or short dropouts in the
audio, as other people evidently do too (Btw it is NOT
your computer-- i get this problem on a 1.6 GHz P4 on
campus as well as on my poor old PII/333 at home). So
WHY the audio problem? I have detect/force 24Hz turned
on, as well as sync audio+video.

Interestingly, i do not get the audio problem when sync
is unchecked, but then the lip sync is waaay off and the
output is useless. I've also tried Flask for recompressing
DVD's and do not get the audio dropouts. However, i think
DVDx is a better program overall and i'd love to see this
intermittent audio problem fixed.

Cheers,
P.