File Details

File Size
10.5 MB
License
Freeware
Operating System
Windows 2000/9x/Server 2003/XP
Date Added
July 10, 2006
Total Downloads
166,249
Publisher
Damian Kedzierski
Homepage
Desktop Sidebar
Publisher's Description
Desktop Sidebar is docked to the edge of the screen and displays not only your appointments, tasks and e-mails but also shows other useful information such as news downloaded from the Internet. It is integrated with Microsoft Outlook so you don't have to transfer your data to a new application. When are you using it you don't have to switch to Microsoft Outlook in order to check your schedule. Your schedule is always displayed on the screen and one look at Sidebar is enough. It displays information in separate panels. The user can freely arrange panels by adding, removing or moving and grouping together.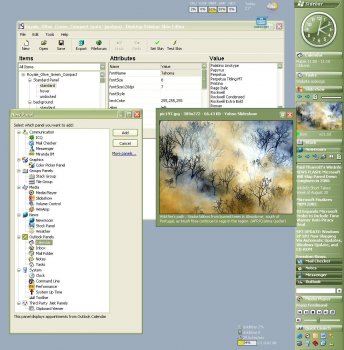 View Full-size
Latest Reviews
friendinme reviewed v1.05 Beta Build 116 on Apr 17, 2008
good sidebar.

pros: --it is free
--it is flexible
--it has a small memory footprint (much smaller than Google or Yahoo sidebars)
--has good modules (the stack is very good... enabling several modules to fit into one)

cons:
--there are prettier ones out there
Micromind reviewed v1.05 Beta Build 116 on Jul 6, 2007
Good sidebar ... but take a look at KlipFolio ... http://www.klipfolio.com...tion=downloads,download
M a t t L e e reviewed v1.05 Beta Build 116 on Apr 10, 2007
this is not the best looking sidebar but it wins by default seeing as its the only 1 ive seen that has no spyware what-so-ever in it. its a shame cause i would prefer a better looking sidebar
zxc731 reviewed v1.05 Beta Build 116 on Feb 10, 2007
THIS IS SO GOOD!!!!!!!!!!!!!!!!!!!!!!!
xee reviewed v1.05 Beta Build 116 on Dec 1, 2006
nice program, though not as fast as I hope, but overall it's good.
klipfolio is another good choice too.

I don't think it's .NET Deedstyger, the official download doesn't ask for .NET and moreover the exe doesn't depend on mscoree.dll, however some of the plugins depend on .NET, so watch out
Deedstyger reviewed v1.05 Beta Build 116 on Nov 7, 2006
++ freeware.
++ all the plugins i chose worked without problems i can say.
+- some plugins especially the perf monitors have good details but also some have less options..
-- uses net framework & xml which equals to slowness on my p3-733. sometimes up to 40% with about 10 plugins enabled. tlb does the same with much low cpu. this is because of using the xml bloat i suppose..
-- skins not visually esthetical much.
-- panels not visually esthetical to each other.. all those panels added to the bar visually a mess what i see is.

result: truelaunchbar wins definitely if u have money.. ds wins if u can resist those negativities.. samurize can be another free alternative. my choice is tlb.
Haaglander reviewed v1.05 Beta Build 116 on Aug 17, 2006
This is a great program. Easy to install and modify to my needs. I cannot work without it anymore.
roj reviewed v1.05 Beta Build 116 on Jul 10, 2006
This is not a tough crowd - just one that expects a standard of quality to be upheld, especially when it has int he past. Why release code without taking the time to include optimizations that were considered de riguer in all previous versions, especially when there is no urgency to push new releases out the door?

I have long used, championed and recommended this utility and can now do so again.

All that remains is for the dev to issue a long overdue final release.

FIVE stars.
horsecharles reviewed v1.05 Beta Build 116 on Jul 10, 2006
Tough crowd here...it is freeware.
The MAZZTer reviewed v1.05 Beta Build 115 on Jun 20, 2006
roj: Then restrict the size of your page file. Problem solved.

The installer breaks if you have an existing version of Desktop Sidebar installed. They really should test these common scenarios before release.