File Details

File Size
17.6 MB
License
Shareware
Operating System
Windows 7/8/10/Server 2003/Vista/XP
Date Added
June 6, 2018
Total Downloads
3,934
Publisher
GipsyMedia Ltd.
Homepage
DigiGuide
Publisher's Description
DigiGuide is a TV guide for your PC - an electronic Interactive Program Guide similar in functionality to the Sky EPGTM but with the power, flexibility, and performance you would expect from a software product. It gives 14 days of TV listings.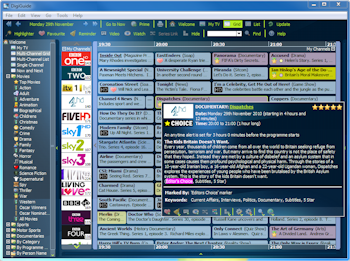 View Full-size
Latest Reviews
F1Racer reviewed v8.3 on Apr 26, 2009
A good program, which Ive used for years now, but am seriously thinking of giving it up if I can find a half decent alternative.
Rule No.1: Don't use this if you are a gamer. I know you can have it on voice only, but thats hardly an answer to this problem.
The issue lies in that when a reminder window pops up, it always steals focus.
This can mean your game just got ruined (especially if you are online or your game is one that crashes when you do a task-switch).
Its happened to me one too many times now and I can't take it any more.
Its ruined my gaming enough times to make me want to drop this program. Its just not worth the hassle.
The other annoying thing is when you edit the markers, there is no option to tell it NOT to remind you if the program is a repeat. So combine that with the first annoyance and you have a potent combination.
Having said that Digiguide doesn't always pop its window up in front, sometiems it can do it in the background but not always and it is always a the most crucial time when it gets ya. Oh and yes, this is even with the option about taking focus, disabled. It just ignores it.

If you can deal with that crap, then get it, because apart from that which is a major issue imo, this program is very fully featured.

Its also in need of another update as it hasnt been touched in ages.
pjb reviewed v8.3 on May 22, 2006
Really good programme guide. I have been using DigiGuide for a few years now, and using the Beta Versions of 8.3 for the past months.
I have not noticed any problems, always updates ok.
Brian49 reviewed v8.1 Build 968 on Jan 4, 2005
An excellent application for a UK user - I haven't had to look anywhere else for TV listings for the past several years. It works well and updates smoothly.
babyapartnership reviewed v6.1 Beta on Jul 3, 2003
I would use if it could support AOL 7 or nineMSN TV listings for Ausstralian users like me.
srgsng25 reviewed v6.0 Beta on Oct 9, 2002
the design is ok i live in the US so i use the tvguide.com.

anyway i notices it took like 15 mins to pull 4 meg for the channel line up this could be a problem i deon't optimize the conection verry well i plan on doing more througho testing to see excatllly where the issue is that was for a t1 speed at the time

the gui is ok not the most userfriendlly piece i've sceen so it need a little help
geekboy2000 reviewed v6.0 Beta on Oct 8, 2002
Basically, it looks good, and it's the best competition I've seen yet for Gemstar's GuidePlus. OTOH, after completing the install and update downloads, I had no channel numbers associated with the channel names. I saw that I could assign a channel number, but it would be pretty tedious to do that. I may have just missed something in the install options, but I would have rated it higher if the correct channel numbers were present by default.
ditoa reviewed v6.0 Beta on May 27, 2002
the only adverts are on the websites that are associated with the program (such as digiguide.com) There are no adverts in the actual program itself. I personally dont mind the adverts on the site, they are mostly adverts for something i will be interested in such as films or pictures and bios of stars in the program/film i am interested in. Also they are done in a nice way and they do not bloat up the webpage, it is still very quick and clean and has no popups. Still an excellent program :)
Graeme_Clifton reviewed v6.0 Beta on May 24, 2002
Good program, been using it for months now, don't know what your talking about though 'spg', there are no adverts in it - thankfully.
spg reviewed v6.0 Beta on May 24, 2002
It is good but be warned! - buying the software DOESNT remove ANY adverts. You still pay for the adverts. Dont email them, they dont care about you opinion
The Nullifier reviewed v5.0 Build 184 on Oct 31, 2001
Digiguide is excellent - would like to see some more sexier looking colour schemes - but the use and the functionality are excellent (1st shareware util I ever paid for)