File Details

File Size
3.2 MB
License
Shareware, $29.95
Operating System
Windows (All)
Date Added
January 16, 2017
Total Downloads
4,851
Publisher
Geekcorp Software
Homepage
DiskState
Publisher's Description
DiskState reports the current state of your disks: Total MegaBytes, GigaBytes, the amount of space used and free, and the useable swap space (or memory usage). Furthermore, one can browse through the folder structure with an intuitive pie chart showing relative folder space used.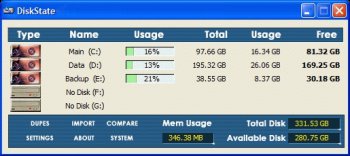 View Full-size
Latest Reviews
Zoroaster reviewed v3.01 on Nov 17, 2005
Far too expensive.
For $44.95 less, Drive Manager (http://www.alexnolan.net/software/driveman.htm) suits me better.
httpd.confused reviewed v3.00 on Oct 27, 2005
Raxco is not a company that likes to take chances. While their software is generally very reliable and straightforward, innovation is not their strong point by any stretch of the word. (I think my review of PerfectDisk 7 proves my point pretty well.)
CyberHobo reviewed v3.00 on Oct 27, 2005
Per http:confused, DITTO!

Still over priced. I suggested the ability to resize the main GUI and at least add a secure file delete function. Raxco responded with, "We have many things in store for DiskState." This was two years ago. Well, the only thing that changed was a different GUI background color (which is an improvement). Common, do something with this utility, it still has potential.
httpd.confused reviewed v2.86 on Sep 30, 2004
A decent application which, as others have pointed out, is blatantly overpriced. I consider it overpriced by about 300%, meaning it should cost around $20. (Wait--what's this? They've reduced the price to $45? Well, it's still ridiculous.)

Fortunately for me, though, I bought DiskState for $10 years ago, and continue to get free updates to this day. =)

DiskState does many things, but most of them it doesn't do very well.

For example, the drive listing it shows doesn't refresh dynamically. So, for example, if you have drives that appear or disappear dynamically (such as if you use file-hosted volumes), DiskState needs to be restarted to show the changes. For an application of this price to have such a limitation is utterly ridiculous.

The main window also isn't resizable, which is a giant software pet peeve of mine. The fixed size is so senseless that even moderately-long volume names don't fit--and if they don't fit, they're not just cut off, they're omitted entirely.

The Add/Remove function is DiskState is another good example; it's there, it's fast and it works OK, but it's not especially useful.

The one thing that I feel DiskState does best is duplicate file finding. Even if you use the MD5 method to find dupes, DiskState works very quickly, and provides powerful (but often confusing) options to remove unwanted files. But even this function of DiskState doesn't provide many options, and falls behind dedicated dupe-finding utilities.
arman68 reviewed v2.85 on Nov 19, 2003
Again a case of an overinflated price. It's a shame as I find it is the best program in its category. FYI the last version that had no limitation and nag screen was 1.14c. The recent version seem to have more and more useless bloat added to them - probably an attempt to justofy their price.
dougau reviewed v2.80 Beta 1 on Dec 21, 2002
Nice, I would gladly pay $20.00 to ($30.00 with free life long upgrades)for it, but at $60.00 it's way overpriced. I guess they would rather sell one at $60.00 than 10 at a lower price. I guess they like their software so much they want to keep it.
patmcpgh reviewed v2.70 on Mar 31, 2002
I rated '3' because that is midpoint. I rate '5' for functionality and usefulness; but the price of $59. is not realistic for me. I have used multiple betas of this with no probs, and would have quickly paid $15. or $17. I do not have a LAN; just one personal home PC. So, I can find lower cost ways to do the same thing for MUCH less. Yes, it will take me more time to do those functions. Hence - the trade-off dilema for me. Uninstall.
dougau reviewed v2.70 Beta 2 on Feb 24, 2002
Nice, but $60.00 is almost what Norton System Works will cost you, (this is just a comparison of value for the money) so I'm giving it a one for value. It would defiantly be worth twenty dollars, but no way in heck would I shell out $60.00 for it.
daveytay reviewed v2.51 Beta 2 on May 17, 2001
Have you tried Spaceman? Freeware....
phid reviewed v2.50 Beta 2 on Mar 10, 2001
This software is one of the best to find duplicates files you've got to solutions for that CRC32 or better MD5.