File Details

File Size
306.9 MB
License
Shareware, $29.00
Operating System
Windows (All)
Date Added
April 28, 2015
Total Downloads
4,937
Publisher
DialogueScience, Inc.
Homepage
Dr.Web
Publisher's Description
Dr.Web is a powerful combination of an AntiVirus scanner and a clever memory resident monitor - "Spider Guard". It is deeply integrated into the operating system of your PC, which practically excludes any possible intrusion of a malicious code, e.i. virus, worm, or trojan into your computer.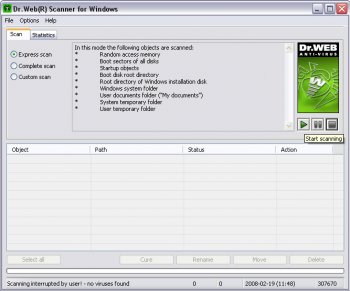 View Full-size
Latest Reviews
some guy reviewed v7.0.0.10100 on Oct 11, 2011
how about this Cyber Douche DR WEB Sucks!
CyberDoc999 reviewed v7.0 Beta on Jun 11, 2011
wow no reviews since 2009
dr web is amazing
Artem S. Tashkinov reviewed v5.00.1.12220 on Dec 30, 2009
With all advances DrWeb still has a very low detection rate. Yesterday I found three viruses on a computer supposedly "protected" by DrWeb.

A good viruses definitions DB is far more important than how much resources an AV solution uses.
billco reviewed v5.00.1.09020 on Sep 13, 2009
Anybody that criticises the GUI as simple, doesn't know what they're talking about. Simple GUI is GOOD. It's what goes behind the scenes that makes the malware checker.
I can say that this thing caught a some trojans, boot sector virus, , and something causing my browser problems. Malware bytes didn't catch the latter 2. So this thing worked.. I don't know if NODor KAV would've done better.. I know I was using a free version, was great..
http://www.freedrweb.com/cureit/
RastaWorld reviewed v5.00.1.08100 on Aug 12, 2009
Super low detect rate. Does not even come close to detecting variants from the past 6 months.
emanresU deriseD reviewed v5.00.1.08030 on Aug 3, 2009
You lost faith in one AV solution, and threw it into another, based on one virus. I'll be totally blunt: That doesn't make sense.
starkside reviewed v5.00.1.07270 on Jul 31, 2009
I've had Eset Smart Security for about two years. However, ESS failed to notice the virus when the time has come and I opened a keygen with Win32.Virut inside. I was suspicious, though (the file din't do anything, which is suspicious, I suppose), So I checked it with Dr. Web CureIt! AV package.

This AV found about 15 instances of the virus! As mluch as I love ESS (got used to it by now, duh), I duly switchedover to Dr.Web, simply due to its efficiency.
emanresU deriseD reviewed v5.00.1.06040 on Jun 4, 2009
Did you come across this listing by accident? There's a reason you've probably never heard of this piece of crap. Move along.
niknetpc reviewed v5.00.1.05150 on May 18, 2009
This AV provides for free by almost Russian ISP's with broadband subscription.Really Dr.Web unable to handle anything, latest version is more beauty GUI, but rate of virus detection is degraded.My friend purchase new laptop two mounts ago with 1 year subscription of Dr.Web from own ISP, and after month his PC is crashed from virus infection, reinstall and again have various problems with it. I tell him to remove Dr.Web and install KAV2009, results to be amazed us, PC is infected by 8 trojans and viruses,easy detected and removed by KAV2009, but Dr.Web detect NOTHING of these viruses. All problems is fully resolved for now.
Artem S. Tashkinov reviewed v5.00.1.02020 on Feb 8, 2009
A new release number doesn't justify an antic interface, quite low virus detection rate and frequent disability to cure the system from already running viruses/trojans and rootkits.