File Details

File Size
0.4 MB
License
Freeware
Operating System
Windows (All)
Date Added
July 9, 2012
Total Downloads
55,996
Publisher
ProfessorCPU
Homepage
DriverGrabber
Publisher's Description
DriverGrabber will grab all third party drivers from your system and stick them into a 'Drivers' directory.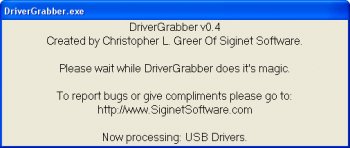 View Full-size
Latest Reviews
wlan reviewed v2.0 Beta 7 on Jun 14, 2014
Reviewing DriverGrabber 2.0 Beta 7
It is reported as virus Win32/Packed.Autoit by NOD32 v7.x.
I disabled antivirus in order to download it.
I hope it is not a virus.
Seems to be working fine.
Windows drivers are excluded from export
Still investigating
jacobjackson reviewed v1.0 RC4 on Aug 24, 2013
good stuff
-Lord- reviewed v1.0 RC4 on Jun 5, 2012
This program went directly into my portable toolbox. NUMEROUS are the time where I've had to wipe a machine clean and hunt down replacement drivers for a new install. This thing makes the process much simpler.

This is a must have tool for admins.
Fanny99 reviewed v0.5.1 Beta on Apr 30, 2009
hello
vcc reviewed v0.5.1 Beta on Oct 1, 2008
I don't care what anyone else says! Free, when a program works well, is AWESOME!!! Thanks goes to Siginet Software for the developement of it.
Tried it and it works great.
Second Shadow reviewed v0.5.1 Beta on Apr 28, 2008
I won't be so generous as poster stisev below :D, but I'm really grateful for this great app.
Simple, efficient, free
Just a simple correction: "It's 'its'" :)

See: www.cgl.uwaterloo.ca/~csk/its.html
ProfessorCPU reviewed v0.5.1 Beta on Jan 5, 2008
@leejjcn
I agree DriverMagician has other features. That is because it serves a different type of user. DriverGrabber is meant to simplify the process of collecting the driver files so that they can be added to a windows install disk. It is meant as a one click quick and simple way for IT Techs to gather drivers.

A later release will allow options to open a gui for other features simular to drivermagician... but that isn't the main purpose of DriverGrabber.

For users who want a gui interface I actually reccommend another utility called SmartDriverBackup. Which is not made by me.
leejjcn reviewed v0.5.1 Beta on Jun 24, 2007
It seems a bit useful, but I prefered Driver Magician, it has device drivers backup, restoration, update and removel functions. Its homepage is http://www.drivermagician.com.
saadsaleem reviewed v0.5.1 Beta on Jun 23, 2007
Beautiful application! ease of use and does what it says.
robertguda reviewed v0.5.1 Beta on Apr 6, 2007
Unpack to its own directory (create before unpacking ...DriverGrabber) create shortcut, run...drivers available in its own directory...

simple

Outstanding