File Details

File Size
161.3 MB
License
Freeware
Operating System
Windows (All)
Date Added
August 17, 2022
Total Downloads
90,837
Publisher
Obi
Homepage
Dropbox
Other Versions
Publisher's Description
Dropbox is the easiest way to store, sync, and, share files online. There's no complicated interface to learn. Dropbox works seamlessly with your operating system and automatically makes sure your files are up-to-date. Available for Windows, Mac, and Linux.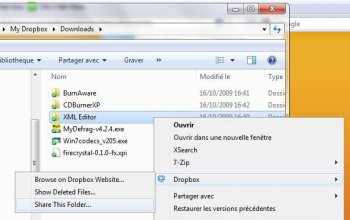 View Full-size
Latest Reviews
Slug_Coordinator reviewed v81.4.195 on Oct 1, 2019
They need to stop the Auto Loading and forceful bypass once you use it. I dont want it running 24/7 just cause I use it once in a while. If I am not using it I want it off and those resources off. I have read tons of forms where many are sick of that happening. They Ignore it...
Slug_Coordinator reviewed v61.4.95 on Nov 8, 2018
Unless you want a slow PC and enjoy it over riding your setting and options its a PITA
CyberDoc999 reviewed v3.20.1 Final on May 11, 2016
anyone using this should look at BitTorrent Sync because BitTorrent Sync is free and 10,000 times faster and no size limit and perfect !! Dropbox is a total fail compared to BitTorrent Sync.
rubeo reviewed v3.19.31 Beta on Apr 22, 2016
Great for storing in the cloud so when your house gets robbed you can still have all your data. Funny thing is that the beta version states 3.19.31 while my version already is at 3.19.32
andy1802 reviewed v3.12.4 Experimental on Feb 19, 2016
I use some new site for file transfer - transfer.co. It is very helpful platform, because you can transfer files up to 5GB absolutely free. The files delete after 7 days, and your information is protected when you choose "protect file" button.
Transfer.co is a simple way to transfer large files anytime and anywhere which guarantees the security of its customers. You can use transfer.co in your job, for personal goals or just to have fun with friends or family.
FatBastard reviewed v3.8.4 on Jul 24, 2015
Dropbox has become very bloated lately :(
some guy reviewed v3.7.40 Experimental on Jun 28, 2015
chillyb
do you know what a Beta is?
chillyb reviewed v3.7.40 Experimental on Jun 28, 2015
Ok, call me paranoid, but why does the publisher say Obi?? And I just checked my current version of DB and it didn't find any updates. So, unless I see this experimental version of dropbox.com, I'm not going to be a guinea pig. Although I do use DB, Drive and OneDrive. My DB space is about to expire, so I'll probably transfer everything to OD since I have over 200GB of space with them.
(oh and for anyone who uses multiple cloud storage services, you should check into MultiCloud. I just installed and set it up and finally have a all in one storage UI.
Music4Ever reviewed v3.6.3 Experimental on May 28, 2015
Yet another program filled with such self importance that it now adds a start up entry & Windows service to auto update the program - You can't disable this in the program & removing it elsewhere is pointless as each time the program is run it's recreated - Gone elsewhere.
Jim reviewed v3.5.62 Experimental on May 1, 2015
Slow box? The one and virtually *only* thing dropbox has going for it is that it's **faster** than all the other cloud storage services - by _far_.

Granted recently they've added some features to the web interface to make it simpler and to compete with google Docs/Drive, and they've started massing a collection of sites that integrate with it - but as far as the API integration it's no more widespread than google drive and their other top competitors.