File Details

File Size
8.5 MB
License
Shareware, $32.00
Operating System
Windows (All)
Date Added
April 27, 2023
Total Downloads
17,132
Publisher
EFSoftware
Homepage
EF Commander
Publisher's Description
EF Commander is a complete file manager for the Windows. If you've ever used and liked Norton Commander, you'll like this dual-windowed program, which comes complete with bubble and online help. You can search directory trees and directories and perform actions, including Run, on files. You can also check file attributes and edit files with search-and-replace and drag-and-drop. Use the internal editor or associate one of your choosing to edit files, easily view files and configure the buttons to suit your needs, and get system and disk information with a click of the mouse.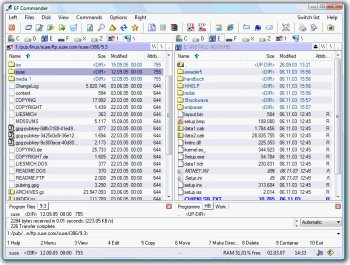 View Full-size
Latest Reviews
krgood reviewed v10.60 on Jun 15, 2015
GpSoft Dir Opus still King! Has it all and then sum!
Much better than Total Commander. Easy to create a new folder, and the 64-bit version a lot faster than Total Commander on my 64-bit Windows 7 machine (even though TC is 64-bits, too !).

I like minor, but useful features, such as the current time display and a "Kill Process" button. Little things can add up to big things.

The DataRat
pjafrombbay reviewed v7.75 on Apr 12, 2011
An up-date on my previous review. I recently moved to Windows 7 and wanted a "native" Windows 7 X64 file manager. After an extensive review I chose xplorer2 (http://www.zabkat.com/). Same price as EF Commander but for me is much simpler and easier to "tune" to my way of working. 3 stars for this but 5 stars for xplorer2.

Regards,
Peter
SineWave reviewed v7.70 on Mar 17, 2011
if it doesn't have at least 5 rows of icons, it's not worth it, so a low rating from me. bubble help and online help is so useful, especially for people like me who's been using computers since Spectrum days. Lovely jubbly.

It's not a 10MB file manager at least. 2 stars for that.
efsoft reviewed v7.01 on Mar 11, 2009
Why not "EF Commander Free"? Is actual, not from another century, runs on Vista, is absolutly free, no nags, no donation buttons.
pjafrombbay reviewed v7.00 on Feb 16, 2009
Why not use the older but free version of Servant Salamander 1.52 (see: http://www.altap.cz/download.html#salrel). I've been using this for years and find it indispensable. If you must have the latest versions then purchase Altap Salamander 2.51 for half the price.

Regards,
Peter
efsoft reviewed v6.70 on Aug 19, 2008
@jcunews: All "Commander" programs include your favorite are clones, all clone the old Norton Commander. This program, former "PM Commander", "Commander", "Commander 2001", "CHIP Commander" and "File Commander", run since February 1994, all what you wrote is not true!
have your favorite internal Audio Player? NOT! 22 internal Packers? NOT, etc.
jcunews reviewed v6.70 on Aug 18, 2008
This is just a Total Commander clone - including the license. A shareware that is. But unfortunately, it's half as solid as Total Commander. So why use it?
lotherius reviewed v6.51 on Mar 8, 2008
1999 called, it wants its endless rows of tiny unlabeled and ambiguous icons back.
brusco reviewed v6.31 on Nov 27, 2007
@ previous comments. perhaps testing the lite version would be less annoying?

Nice app. Far less flakey than Explorer file manager.