File Details

File Size
59.8 MB
License
Shareware, $39.99
Operating System
Windows 7/8/10/Vista
Date Added
November 4, 2021
Total Downloads
453,644
Publisher
Eset, spol. s r. o.
Homepage
ESET NOD32 Antivirus
Other Versions
Publisher's Description
ESET NOD32 Antivirus is a fast, effective technology available to protect you from viruses, spyware and other threats without slowing you down while you work or play. ESET NOD32 Antivirus 4 ThreatSense scanner is even smarter and faster, while adding removable media security, new diagnostic and recovery tools, and more advanced heuristics.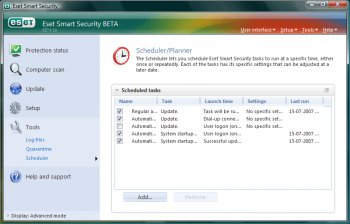 View Full-size
Latest Reviews
huero420 reviewed v10.0.106.0 Beta on May 21, 2016
One of the few pieces of software I would give a 5/5! Works as advertised even the Betas do. Frequent updates of the virus definitions and quick response to new threats. Don't bother waiting for me to tell you about it give it a try and see for yourself.
CyberDoc999 reviewed v9.0.318.0 on Oct 14, 2015
great
shrink57 reviewed v9.0.318.0 on Oct 14, 2015
Been using NOD32 for years and it never disappoints. It has always been fast, compatible (any issues were always quickly resolved by the developers), and easy to configure. I never had a virus get past this beast.
CyberDoc999 reviewed v9.0.117.0 Beta on Jul 31, 2015
gets better and better
JohnR3184 reviewed v9.0.117.0 Beta on Jul 28, 2015
lilmegz you stupid f**k the build of Windows 10 you are using is also beta. dumba**.
lilmegz reviewed v9.0.114.0 Beta on May 29, 2015
DOES NOT work on Windows 10 Build 10122+... EPIC FAILURE seeing as this beta JUST came out AFTER THE FACT that Win10 Build 10122 was just released not long ago
CyberDoc999 reviewed v8.0.103.0 Beta on Aug 8, 2014
not really seeing any reason to upgrade... I will stay with version 7... but 5 stars for the best AV
Music4Ever reviewed v 7.0.302 on Oct 17, 2013
Actually using SmartSecurity - Nice to see ESET improving version 6 rather than a complete re-write with a different interface each year like some I could mention. No problems with version 7, it uses few resources & one of the smallest downloads there is - Still does well in AV tests & a few nice improvements in version 7 - Great AV !
-Lord- reviewed v 7.0.302 on Oct 17, 2013
I've used pretty much all that's available out there in tests and searches for the most effective. NOD32 exceeds all in that it's fast, intuitive, configurable, low footprint. It's all I use on my home systems and in my network at work.

dubstepmaker: you said you can't rate it highly enough, but you gave it a 4?
BANDIT- reviewed v 7.0.302 on Oct 17, 2013
Started with v3.x & got a Free upgrade to v6.x

-Still using v6.0.308.0 (NoProb)
-VERY "Highly Configurable"
-Req's a few tweaks (Reg & Services) Ahem..!!
-3 yr license £51 inc VAT
-ANY System is worth 5p a day .. ~_^
-ESET NOD32 A/v .. Without ANY Arguments. 5*