Publisher's Description
EVEREST Home Edition is a system information and benchmarking tool with full hardware & software information. It comes with a built-in hardware database and physical information for CPU, motherboard, hard disks, optical drives, chipset and much more. The information can be displayed on-screen, printed, or saved as a report in HTML or text format. The built in diagnostics module can help you find potential problems, by highlighting them in the report and also includes links to manufacturers web sites, driver updates and more. An easy to use report wizard allows you to create detailed reports in the format of your choice.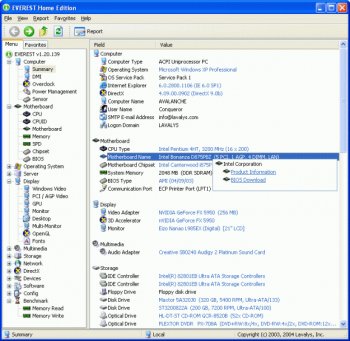 View Full-size
Latest Reviews
stisev reviewed v2.20.466 Beta on Apr 14, 2007
Everest Home is awesome.

Everest Ultimate is even better.
SirMango reviewed v2.20.466 Beta on Oct 22, 2006
Too bad development of the free version has been halted. This was a very good software and still is. Cheers for Lavalys :)
zridling reviewed v2.20.466 Beta on Aug 15, 2006
I like Everest's layout and UI much better than Sandra. And on the fly, Everest provides far more information.
ironD reviewed v2.20.466 Beta on Mar 19, 2006
I have been using ADIA32 for years. I started using Everest and had been doing so since their beginning, I have to admit I was disappointed in their decision to not only cease support and development of Everest Home, but to drop it from their site altogether. I guess it's like the man says in the song it's all about M-O-N-E-Y.
OAKsider reviewed v2.20.466 Beta on Jan 29, 2006
Lavalys EVEREST is one of my favorite apps period. Tons of features and excellent GUI. Been a fan forever and it just keeps getting more comprehensive at every release. I recommend EVEREST Ultimate Edition for anyone wanting to know their computer inside and out, monitor sensors or even benchmark a few things.

So where is the EVEREST Ultimate Edition here at FileForum? Great software, worth the price. Until May 2007, coupon code V4EVEREST is good for 30% off a new license.
jeck reviewed v2.20.466 Beta on Jan 15, 2006
AIDA32, now Everest, was purchased by Lavalys early 2004 and ceased to be freeware at that point. I have never used the full version of Everest, but I understand it is excellent. The last free version of AIDA32 3.94.2 is still available on this site, and it is outstanding, but is no longer supported by the author Tamas Miklos.
taxis reviewed v2.20.466 Beta on Dec 24, 2005
Excellent software; pity Lavasoft discontinues further development of the freeware version.
liza reviewed v2.20.466 Beta on Dec 7, 2005
maybe they have gone to the dark side
never liked this
ranma.2 reviewed v2.20.466 Beta on Dec 7, 2005
on the page freeware-guide.con
it say about this
REMOVED: EVEREST Home Edition (the successor of AIDA32) is being discontinued on December 1, 2005
wonder why they are removing it
guess why
utomo reviewed v2.20.466 Beta on Nov 17, 2005
It still did not have the update functions, so we can update the everest data over the internet, without need to download the whole new software.
if Everest have this, I will consider to give 5.

Regarding the no installations zip file, yes it is avalable in the website. I will use this, instead of installing it.