File Details

File Size
2.7 MB
License
Freeware
Operating System
Windows 7/8/10/Vista
Date Added
November 21, 2019
Total Downloads
7,012
Publisher
South Wind Technologies.
Homepage
Earth Alerts
Publisher's Description
Earth Alerts allows you to monitor in near real-time a variety of natural hazard events that are occurring anywhere around the world. Alert notifications, reports, and imagery provide the user with a convenient way to view natural phenomenon as they occur, whether close to home or some far-flung corner of the globe.
Earth Alerts uses a variety of online resources provided by organizations such as the National Weather Service, U.S. Geological Survey and Smithsonian Institution (just to name a few), to identify what sort of activities "Mother Earth" is currently dishing out on the planet.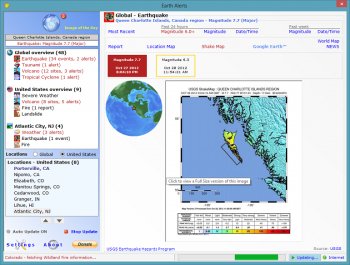 View Full-size
Latest Reviews
henrypeck reviewed v2017.1.32 on Sep 12, 2017
Useless
cltx99 reviewed v2017.1.32 on Sep 12, 2017
It gets a -1. One of the worst and least intuative programs I've ever encountered. Certainly not worth the time I wasted with this peace of crap. Thank you very much.
qazimono reviewed v2014.1.192 on Nov 5, 2014
Good idea but Im not able to download US locations...any..tried NY or Baltimore.
Software also is qutie not stabile.
Uninstalled. Maybe I will try later
balanceinmotion reviewed v2014.1.182 on Sep 24, 2014
good stuff
inkowyouknow reviewed v2014.1.182 on Aug 14, 2014
Does not even start after installing, resource hog too.
tacodude reviewed v2014.1.180 on Aug 11, 2014
Stupid noobs can't write a program that works with large fonts!
Scrubs don't answere emails. Losers
tacodude reviewed v2014.1.154 on Jul 2, 2014
Unusable with large fonts! PLS FIX!!
woodgray reviewed v2014.1.84 on May 4, 2014
I am not sure were some of these reviews come from. They don't seem to be reviews at all just statements about personal preferences.
This software is what most of the other weather and alert software should be.
I especially like that its not just another browser add on (I am browse-rd to death)
It provides relevant information about earth events that you get to chose.
The author seems to make daily updates. That is a little problematic. I am not sure if this is a beta release.
The only suggestion I would make is that it becomes skinable or more customizable in appearance.
The content and sources are excellent.
mikebratley reviewed v2014.1.22 on Mar 11, 2014
5 stars
chrispaul reviewed v2014.1.22 on Feb 17, 2014
4 stars