File Details

File Size
0.2 MB
License
Freeware
Operating System
Windows 2000/9x/Server 2003/XP
Date Added
June 27, 2004
Total Downloads
7,681
Publisher
Ryan Dewsbury Inc.
Homepage
Easy Message Express
Publisher's Description
Easy Message Express is an ultra-lite instant messenger for MSN, AOL, ICQ, and Yahoo. Get the fastest connections without using excessive system resources.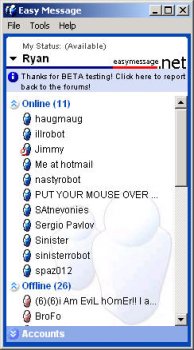 View Full-size
Latest Reviews
Fred-Erik reviewed v2.3.663 on Jun 1, 2006
Very nice little program. Too bad it isn't being developed anymore. You can easily change the background image and the header by editing header.gif and emback.jpg. There is also an option to change the color of the border, so you can make it look a lot nicer. This is what my EM2 configuration looks like: http://img89.imageshack.us/img89/3017/em22dr.png
exit reviewed v2.3.663 on Feb 21, 2006
This is a nice program and i have used it for many years but now Windows Defender tells me
its Adware This program bundles adware called 180Solutions.SearchAssistant to bad i always
thought this was the best messenger because
of its small size
karlo reviewed v2.3.663 on Feb 24, 2005
It's been years since I waited for another version of this program. Anyways, I love this program because it really loads fast! As in! Trillian 2 and 3 are really slow! Along with GAIM! They are really slow! This version is not bloated and probably created in a programming language that is so fast that's why this program loads really fast.
milkshake reviewed v2.3.642 on Nov 21, 2003
I did not like it. Didn't look nice and crashed on my 1.8ghz XP system. Miranda IM beats this anytime.
mrtech reviewed v2.3 on Sep 6, 2003
This is the only program, other than Trillian/Trillian Pro that I actually like and that actually works fresh after an install. And runs perfectly!!!!
HolyLiaison reviewed v2.2.636 on Jul 29, 2003
All I gotta say is WOW. Anyone say lawsuit waiting to happen? Looks a lot like Windows Messanger to me. Watch out for Microsoft. lol

Great program, very small download for such a high quality application. Hopefully MS doesn't think anything of it. ;P
ryanisrad reviewed v2.2 Updated on Apr 9, 2003
Great program. Works absolutely perfect on my XP system. Thanks a ton.
townsend reviewed v2.0 Beta 1f on Aug 19, 2002
It doesn't support the latest version of Yahoo Message, and it doesn't support Chinese in Yahoo Message and MSN.
eddie reviewed v2.0 Beta 1f on Aug 19, 2002
Whatever the problem was, seems to be fixed now. It seems as though the file on the authors server was messed up.
wonko reviewed v2.0 Beta 1e on Aug 19, 2002
Have you actually downloaded the file? Yes, Betanews says it's 208KB, but the file on the server is only 19KB. I've downloaded it with Mozilla, IE, and a third-party download manager, and in each case it's a 19KB corrupt EXE file.