Publisher's Description
EditPad Lite is a compact general-purpose text editor. Use it to easily edit any kind of plain text file. EditPad Lite has all the essential features to make text editing a breeze.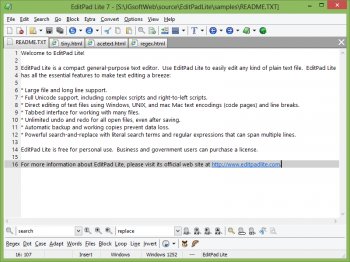 View Full-size
Latest Reviews
RWW reviewed v7.3.8 on Jun 10, 2015
I can't believe it has been so long since this was rated! I use this a lot and it along with Irfanview it is one of the first things I put on a new build.
Where else can you get such a powerful little program and install it by hitting the trusted button with no fear of any crud riding in with it!
Raton reviewed v7.0.2 on Jun 21, 2011
Been using v. 6.4.5 without dissatisfaction. Excellent product !
RWW reviewed v6.6.0 on Dec 9, 2009
Very best of its kind!
Morningdove reviewed v6.4.3 on Jan 31, 2009
EditPad Lite is THE notepad replacement. The features that mean the most to me are tabbed multi-document editing and the choice of fonts and colors.
DudeBoyz reviewed v6.4.3 on Aug 12, 2008
I started out using what is now EditPad Classic, and still use the 3.5.3 version of that app, the best "Postcard-Ware" I've ever had. :)

This Lite version has replaced the Classic and it is still a very, very good little app.
TGB72 reviewed v6.4.1 on Mar 25, 2008
Very powerful text editor, the only complain that I've is that isn't possible to set a limit for tabs width. Really strange that after so many versions the author missed this detail.
MCHAL reviewed v6.4.0 on Mar 3, 2008
It's a nice editor, but I don't like the horizontal scroll bar. Can't hide it, even when Word Wrap is on for all kind of files. Does anyone out there happen to know where to go and deactivate/hide it?

Thanks.
shamas reviewed v6.3.1 on Aug 17, 2007
EditPad Lite is awesome. While most of the time I do use Notepad, I find EditPad Lite very useful when I am editing/viewing multiple pages or larger files.
RWW reviewed v6.3.1 on Aug 16, 2007
Excellent! Have used for awhile, has all the features I need.
zridling reviewed v6.3.0 on Jul 2, 2007
webdr, you are joking, right? All the major editors do a far better job encoding than editpad. Start with EmEditor and E Text Editor for two.